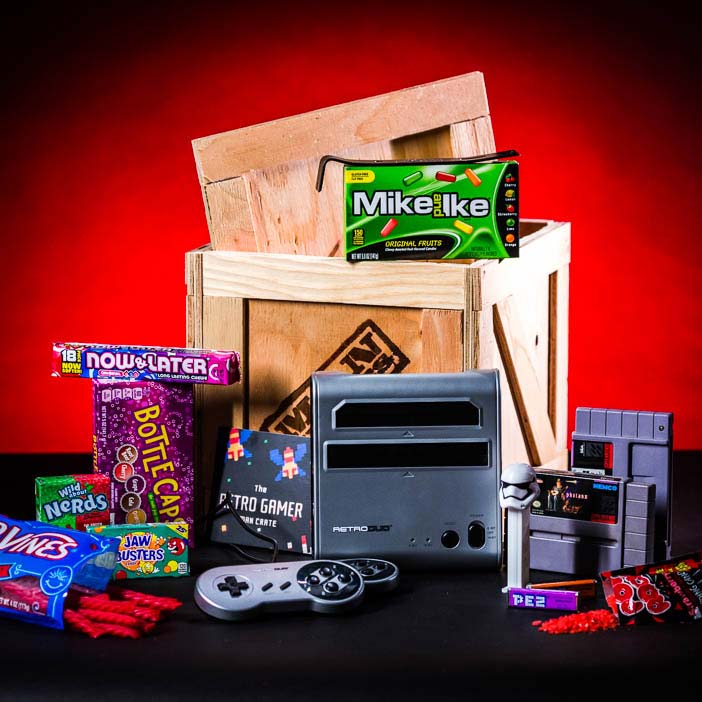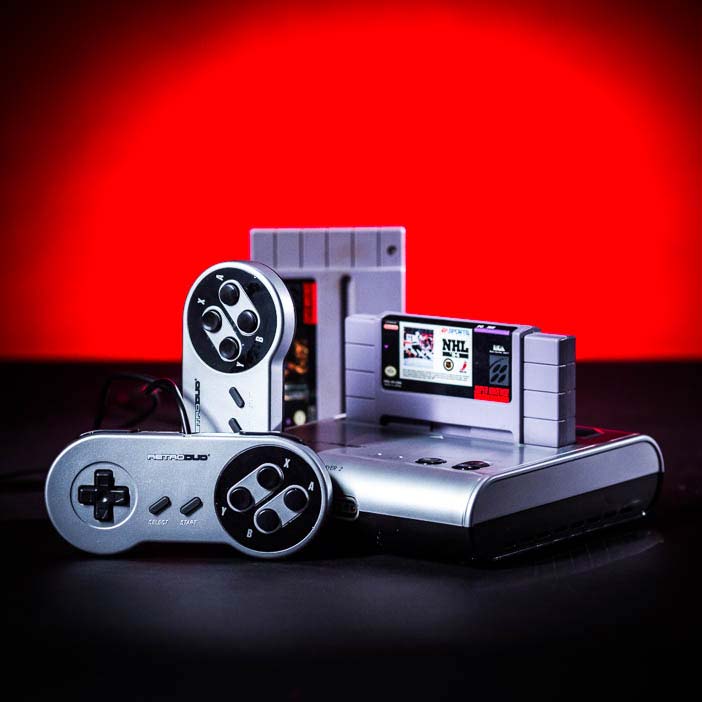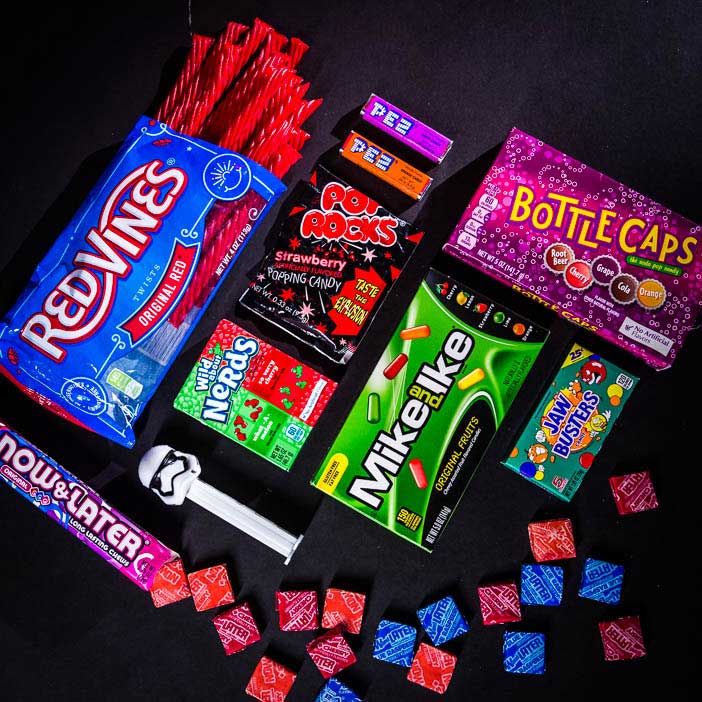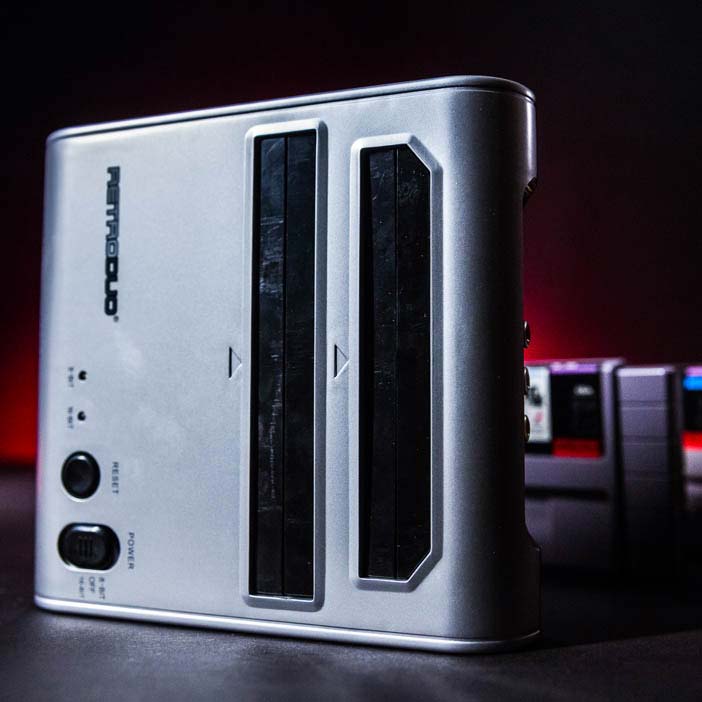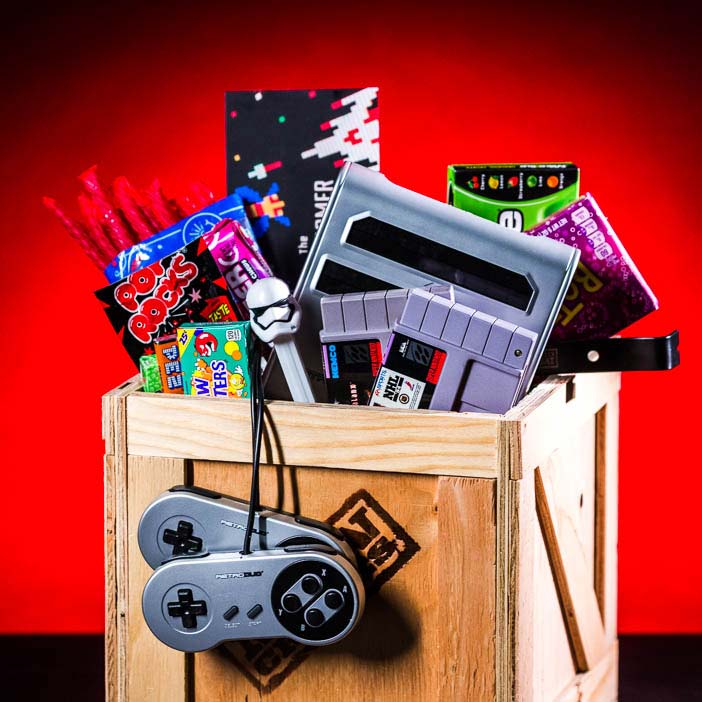 Super Retro Gamer Crate
Oh no! Looks like Super Retro Gamer Crate is out of stock
Click below to get notified when it's back in stock
Notify Me
In the Box
Makeshift Time Machine
RetroDuo Console by Retro-Bit
2 classic Super Nintendo games
(randomly selected from an assortment of time-honored, awesome games)
Sugar Intoxication
Red Vines
Bottle Caps
Mike & Ike
Nerds
Now and Later
Jaw Busters
Pop Rocks
Pez
How It Ships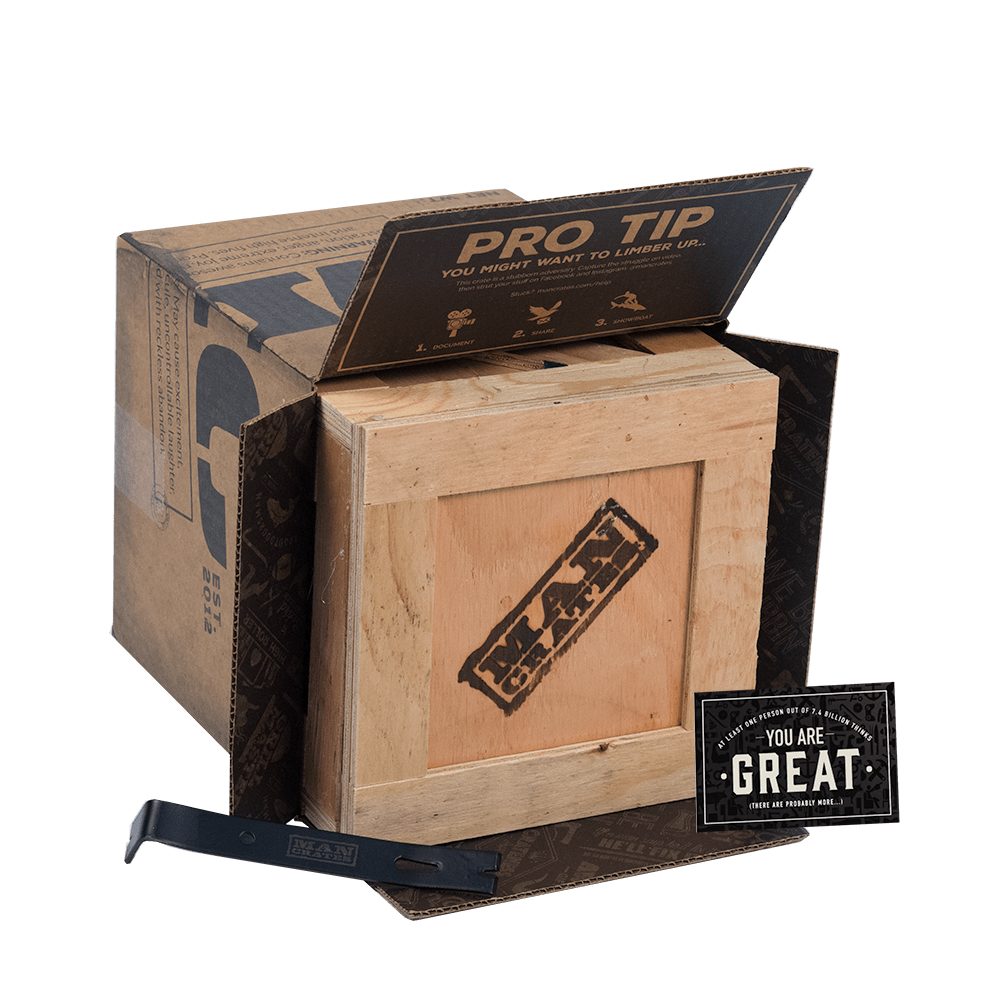 In a sealed wooden crate with a laser-etched crowbar.
---
Orders placed by noon PST will ship out same day

Choose your delivery date at checkout
100% Satisfaction Guarantee
We think our products are awesome, and we guarantee you will too. If you're unhappy with your purchase or experience for any reason, we'll make it right and give you the kind of service you'll want to high-five us for.
Seriously, just call or text us at (866) 902-7260 or shoot us an email at guys@mancrates.com.
Story
A Link to the Past
The 90's were a decade-long montage of highly questionable cultural crazes, but luckily there was Super Nintendo, the 16-bit beacon of hope, to keep us safe in our living rooms from the hazards of boy band hysteria, un-ironic soul patches, and whatever brain-debilitating disease made Beanie Babies seem like a smart financial investment.
Super Nintendo provided hours of sugar-fueled button mashing and rendered bedtimes, homework, and playing nice with friends completely obsolete. And yet, how did we honor this golden standard of gaming? By sentencing it to collect dust in the attic for the last fifteen years.
The Super Retro Gamer Crate makes reparations for all those years of neglect by letting you play your stash of old-school favorites anytime, anywhere.
Unlock All Levels
The RetroDuo v2.0 allows you to play classic Super Nintendo and original NES games in this current millenia. Blast Hadokens in Street Fighter II or swipe corners in Super Mario Kart; a world of infinite possibility and unfathomable responsibility squeezed between your sweaty palms.
The neo-vintage system includes two controllers and plugs into any TV so any gamer can fully embrace that couch potato life.
C-C-C-Candy Buffet
The nostalgia wouldn't be complete without the vintage spread of sweets that once fueled your all-night, thumb-twitching game binges. The Super Retro Crate is stuffed with enough sugar to power you up stronger than a Samus Aran energy beam.
Dust off your childhood game cartridges, recommence your daily thumb calisthenics, and prepare to again perceive the world in 16-bits with the Super Retro Gamer Crate.
Customer Reviews
awesome

I bought this for my husband and he loved it. I have to say when I saw it the memories came right back it was the best gift and he cant put it down so happy with it. I had a problem with one of the games and contacted CS and they were wonderful I will be ordering from them again!!!! thanks man crates for an amazing gift

The best gift ever

So, my girl-friend (not girlfriend) bought me this for valentines day. Not only was it my first time having a valentine (25 yr old, never had a girl in February), but she bought me the most awesome gift ever. She laughed her ass off when I was trying to figure out the nails on the create (It's glued...), but as a guy born in 1990, these are my childhood memories in a box. I love the candy, but the emulator is awesome! It goes a step further though, I got a knock off game... Something called "combat basketball". It hardly fit in the player, to the point where I was afraid pulling it out would break it. I spent a solid 5 minutes wiggling it, and it finally broke free. Not only did they replace my game, but they sent me 2 new ones (one is an awesome one about saving Aerosmith [the band] from a futuristic Nazi regime) but they also sent me Jerky!. 10/10 for customer service, and a very, very happy gift recipient

He Teared up

Do you have one of those husbands that always looks just a little disappointed when you buy him something? I do, and it is so frustrating! However that all changed when he finally got his man crate open and saw the contents, he literally teared up and said, "omg you really do get me" he has been geeking out ever since and I couldn't be happier, I will definitely be ordering again, and soon. Finally a place that gets men! I love this!!

Great Customer Service

I bought one of these for my husband as a combo Valentine Day gift and birthday gift. He loved it and our sons fought over the candy. lol I had paid for the duct tape wrapping and was disappointed that he didn't have that extra layer of "fun" to contend with, but when I called to report it, they were great about fixing the issue. I will definitely order from them again.

Best Gift Ever

I bought this for my husband as a Valentine's day gift a couple years ago actually. Every year we each try so hard to surprise the other. Usually, I fail. My husband ALWAYS guesses what he's getting. Then I found Man Crates. And I knew this would be perfect! The only hints I gave him were that it comes in a crate. And it completely threw him off. He had NO CLUE! He thought I was lying about the crate and was laughing hysterically when it came in the mail. He had fun opening it and loved the contents even more. A year later and he STILL uses the hand held system. Definitely the perfect gift for any retro gamer lover. I just ordered another Man Crate for him this year and can't wait to see his face when he opens it!