Booze-Infused Jerky Crate
In the Box
IPA Beef Jerky, 3 oz
Caribbean Rum Jerky, 3 oz
Dark Ale Jerky, 3 oz
Bourbon Jerky, 3 oz
Whiskey BBQ Beef Jerky, 4 oz
Chipotle Tequila Jerky, 3 oz
Bakke Brothers Beer Beef Sausage Sticks, 4 oz
Oregon Cabernet Jerky, 3 oz
How It Ships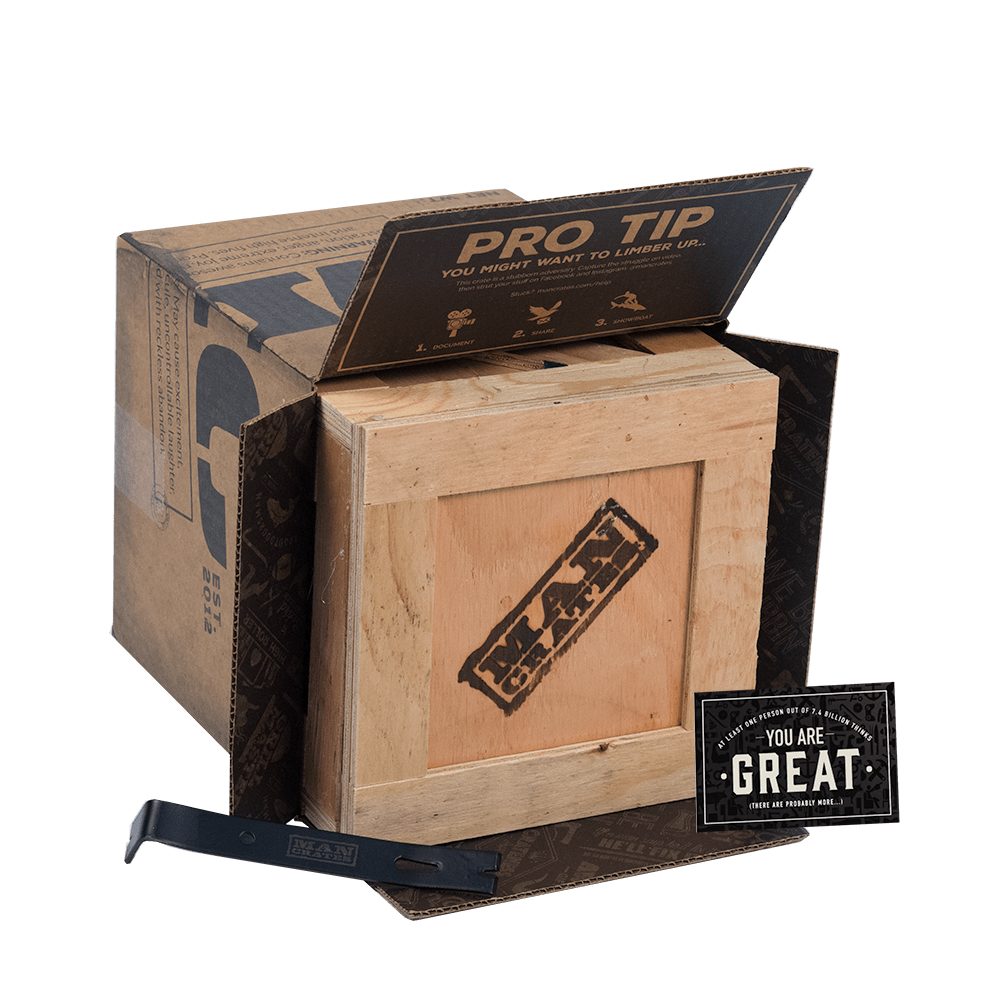 In a sealed wooden crate with a laser-etched crowbar.
---
Some shipping restrictions apply

Orders placed by noon PST will ship out same day

Choose your delivery date at checkout
100% Satisfaction Guarantee
We think our products are awesome, and we guarantee you will too. If you're unhappy with your purchase or experience for any reason, we'll make it right and give you the kind of service you'll want to high-five us for.
Seriously, just call or text us at (866) 902-7260 or shoot us an email at guys@mancrates.com.
Story
Cowcaholics A-nom-nom-nonymous
Alcohol affects people differently: some become more talkative, some funnier, and some friskier, but when it comes to cows, alcohol just makes them more delicious...and maybe also friskier.
We're not sure how they're getting their buzz on—perhaps they're grazing on fermented veggies or maybe their hooves have evolved to open bottles—but we do know "Cowcaholism" on the range is as widespread as it is udderly hilarious.
If you thought cow-tipping was funny, imagine "cow-tipsying," where a one-ton, hot mess of a cow topples over of its own drunken accord. The fall of such docile beasts have given rise to our stampede of inebriated beef, the Booze-Infused Jerky Crate.
A Cow Walks Into A Bar...
By weight, the average-sized cow can down 57 standard drinks per hour (almost 1 per minute) and still be within the legal limits of operating a vehicle or motorized tractor.
At maximum capacity, the average cow's four stomachs can hold upwards of 62 gallons of liquid, more than a barrel of Jack Daniels (53 gallons). If only that were enough alcohol to satiate their demons.
The good news is, this means the tender beef of the Booze-Infused Jerky Crate has been marinating in a saloon's worth of alcohol (from the inside-out) for the better half of a bovine lifetime. The results, delicious, buzzed beef jerky.
Go Home Beef Jerky, You're Drunk
In curing Cowcaholism, we didn't just cure the easy-capture, beer-bellied beef bodies. We herded up cows with diversified tastes from Whiskey BBQ to Pinot Noir for a wide spectrum of alcohol flavors for your jerky fix.
The full lineup of cattle intoxication includes: Caribbean Rum, IPA, Cabernet, Bourbon, Whiskey BBQ, Chipotle Tequila, Dark Ale, and a beer sausage to act as a quick brunch/hangover cure.
Throwdown a double-shot of beef and booze in one bite with the Booze-Infused Jerky Crate.
Customer Reviews
Exciting and fun

Bought this for my manly brother. He enjoyed receiving the box. Ordered with the duct tape wrapping and he had a great time trying to open. He said suspense was Amazing! He has not tried the jerky but Im sure he will enjoy since it is infused with booze and because reviews are phenominal! Im so glad to have come across this website and am sure to use again in the future! Great service, great product, and best of all fast shipping!

Great Gift!

I sent this as a surprise birthday gift for my adult nephew, he loved it and the crate is just the best! The jerky was great too.

Valentine 2021

This was an excellent gift for my man. Due to the weather, he received his box a week later, then attended, which made it better because of the anticipation. We didn't care for the duck tape that seems like a waste, but otherwise, everything else was great. Lots of laughs watching him opening his create. I would buy it again.

Most "Manly" Fun Gift

Anniversary gift to my husband. He absolutely LOVED it! So fun...and I truly loved the look on his face while opening it. The Man Crates make for a unique way of gifting. Very tasty jerky too!!