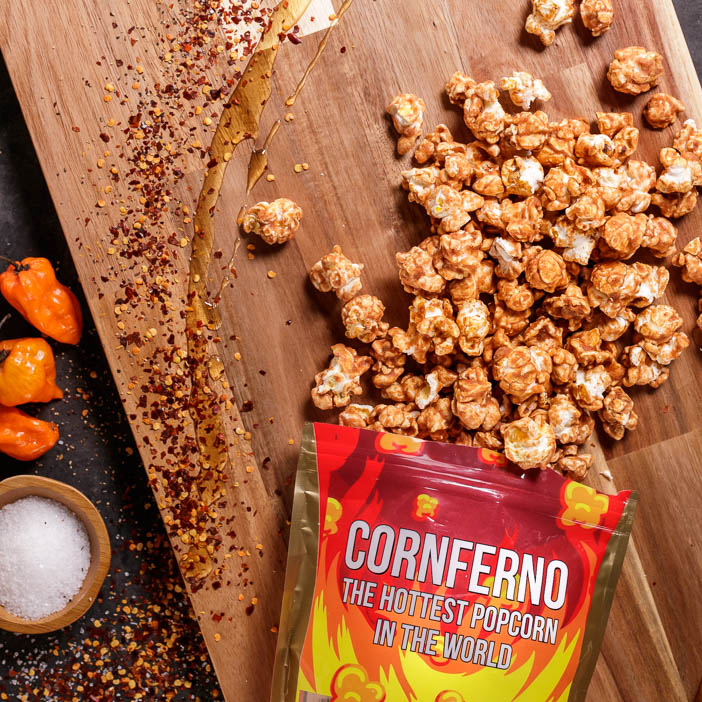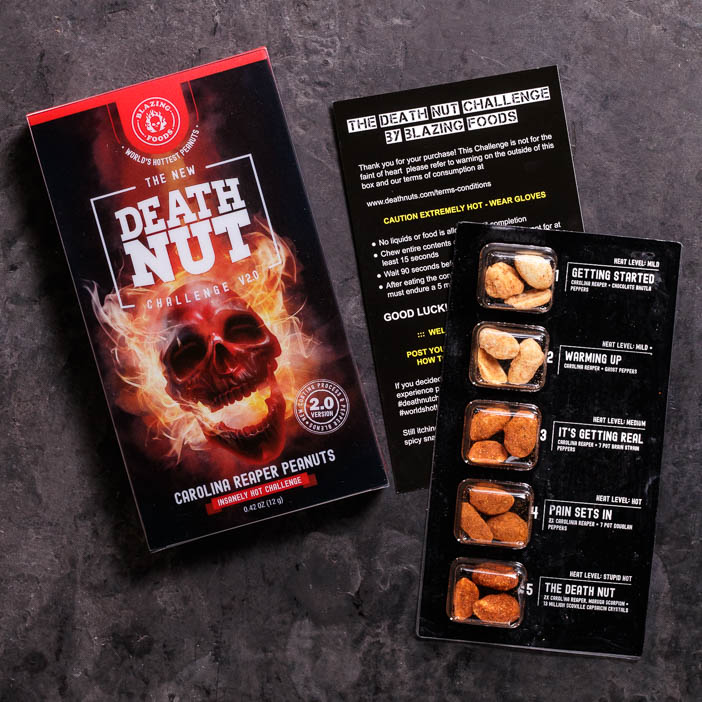 Premium Hot & Spicy Crate
In the Box
357 Mad Dog Pure Ghost Pepper (5 oz)
357 Mad Dog Sriracha Reaper (5 oz)
357 Mad Dog Gold Collector's Edition (5 oz)
Carnivore Candy Creeping Ghost Beef Jerky (3 oz)
Cornferno Popcorn (4 oz)
The Death Nut Challenge
How It Ships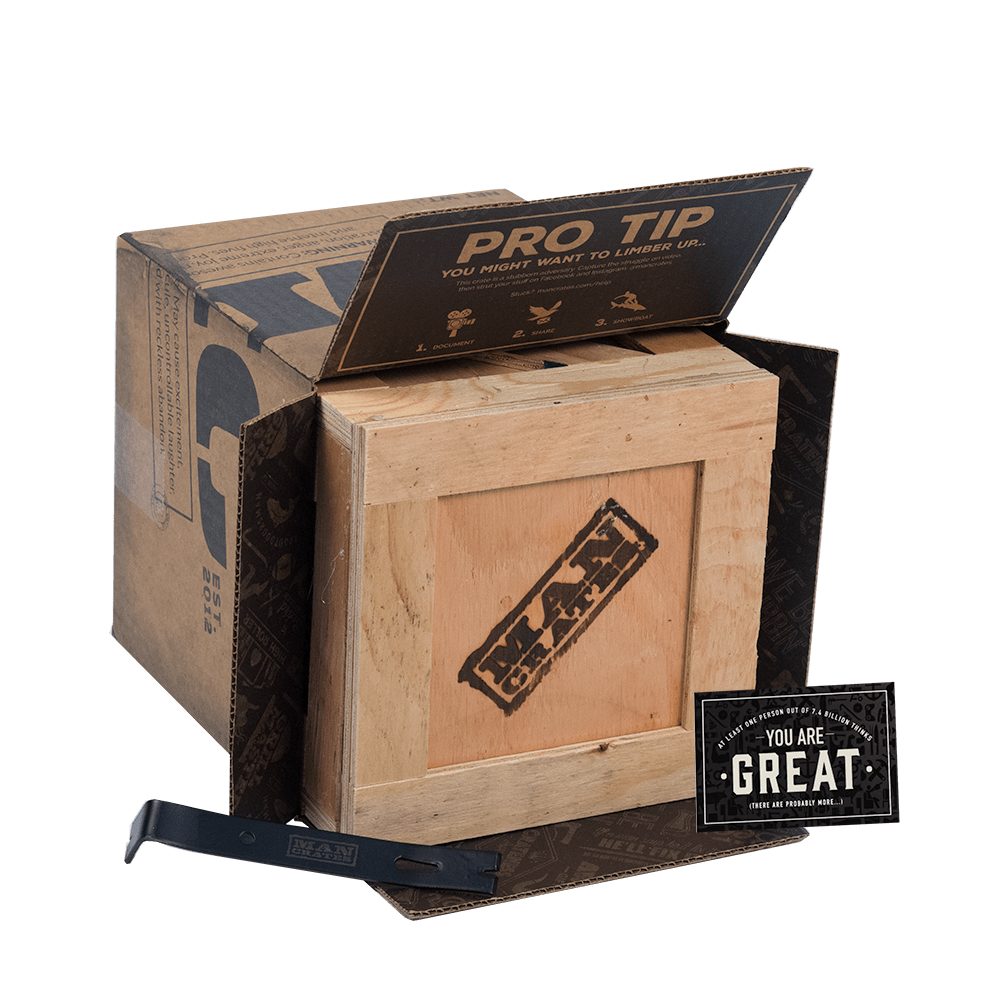 In a sealed wooden crate with a laser-etched crowbar.
---
Some shipping restrictions apply

Orders placed by noon PST will ship out same day

Choose your delivery date at checkout
100% Satisfaction Guarantee
We think our products are awesome, and we guarantee you will too. If you're unhappy with your purchase or experience for any reason, we'll make it right and give you the kind of service you'll want to high-five us for.
Seriously, just call or text us at (866) 902-7260 or shoot us an email at guys@mancrates.com.
Story
THE TONGUE-KILLING CABOODLE
Men love to endure pain in the name of glory. Whether ascending Mt. Everest in frigid conditions or frequently working ourselves into nap-inducing exhaustion searching for the TV remote, our limits are often tested, but rarely broken. Until now.
Containing the hottest popcorn in the world, a collection of hot sauces that scoff at the Scoville scale, and a challenge ladder of peanuts known simply as the Death Nut Challenge, the Premium Hot and Spicy Crate packs some serious sizzle…and a whole lot of glory.
Get him the Premium Hot and Spicy Crate, and treat his tongue to a gift that's filled with fiery flavor.
PAIN POINTS
Made with lip-burning Habanero Peppers and Bhut Jolokia Ghost Peppers rated at 1 million Scoville units, Cornferno popcorn is primed to blow his taste buds off.
The Death Nut Challenge will treat him to a several scorchingly spicy pepper blends, made using the 6 hottest peppers on earth, which features five new levels of insanely hot peanuts:

Getting Started: Carolina Reaper + Chocolate Bhutlah Peppers Heat Level – 5
Warming Up: Carolina Reaper + Ghost Peppers; Heat Level – 6
It's Gettin Real: Carolina Reaper + 7 Pot Brain Strain Peppers; Heat Level – 8
Pain Sets In: 2-X Carolina Reaper + 7 Pot Douglah Peppers; Heat Level – 10
The Death Nut: 2-X Carolina Reaper, 2-X Trinidad Moruga Scorpion Peppers and a sprinkling of 100% pure, all-natural, 13,000,000 Scoville Capsaicin Crystals to make things interesting; Heat Level – Stupid

Mad Dog's treacherous hot sauce trio of tongue tortures has more combined Scoville Units than any mere mortal can handle, and it's the third thing we're mentioning. Just let that sink in.
Customer Reviews
"Awesome Sauce"

Bought for a good family friend for Christmas. Loves hot and spicey things, so what better gift than this? Best part, trying to get past the duct tape "wrapping" to get to the crate.
Great gifts & fun for the observers.

Finally Satisfied

I always complain about hot sauces not being hot. My family hears this all of the time. This was a gift from my son for Father's Day. I LOVE IT! Mine had the correct personal card and a pry bar to open the crate (which will be repurposed)
Jerky could have been a bit spicier but the chips, popcorn, and sauces were lit! LOVE IT!

HOT HOT HOT!! LOL

Got this for the S/O for Christmas 2017. He LOVED it!! He was most excited about growing his own peppers! We tried the Mad Dog 357 with the bullet sauce first, and boy was that a mistake! We couldn't seem to drink enough milk!! LOL I will for sure be coming back to this company for more crates! Also, just found out the Mad Dog sauce we tried first will be the second hottest sauce on Hot Ones this season!!

what fun

My sister gave me this for Christmas The packaging and the content where just fun. Though I am still not sure if she was trying to kill me or just test my manhood.
IF you know someone who likes spice than this is the the choice for them.
Just down right fun to open and fun to enjoy. How much hot is to hot, there is only one way to find out.

Smoking HOT!!!

What a great gift I received. My wife sent this to me and I love it. The popcorn will light you up, as will the delicious beef jerky. I had a small issue with the order and called the company. I spoke with an amazing customer service rep David J. He was funny, helpful and great to work with. This company stands behind their products.