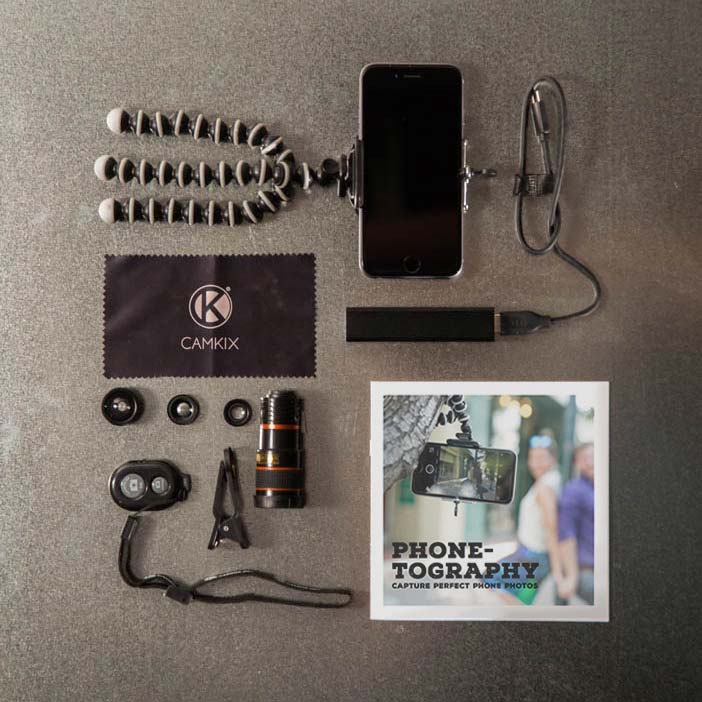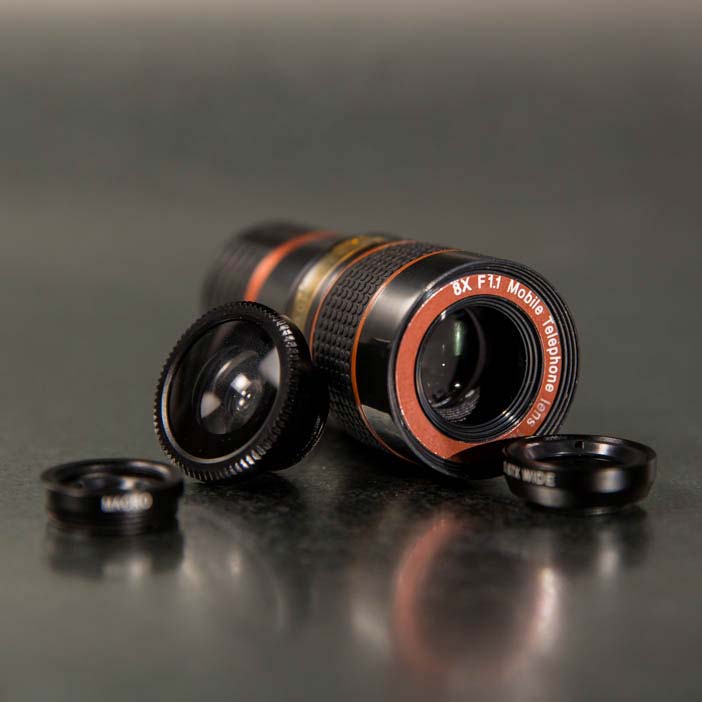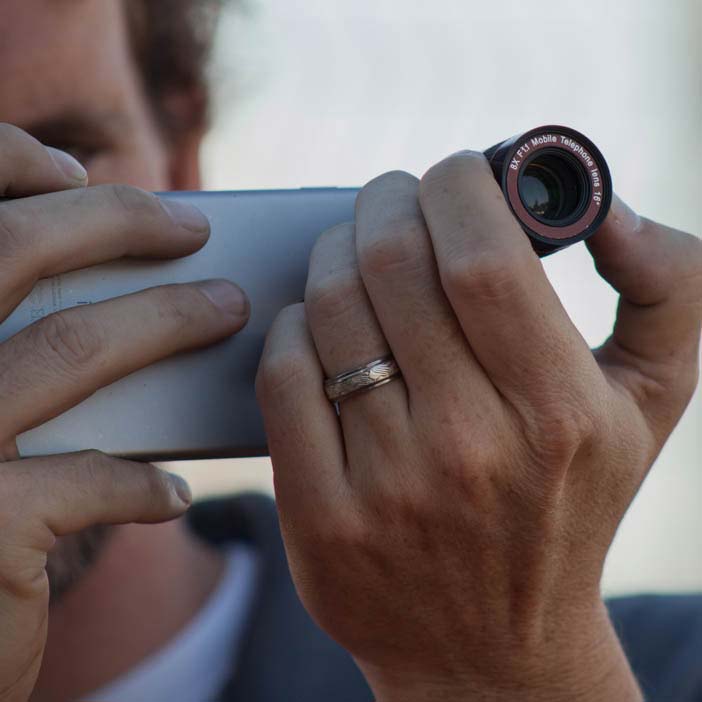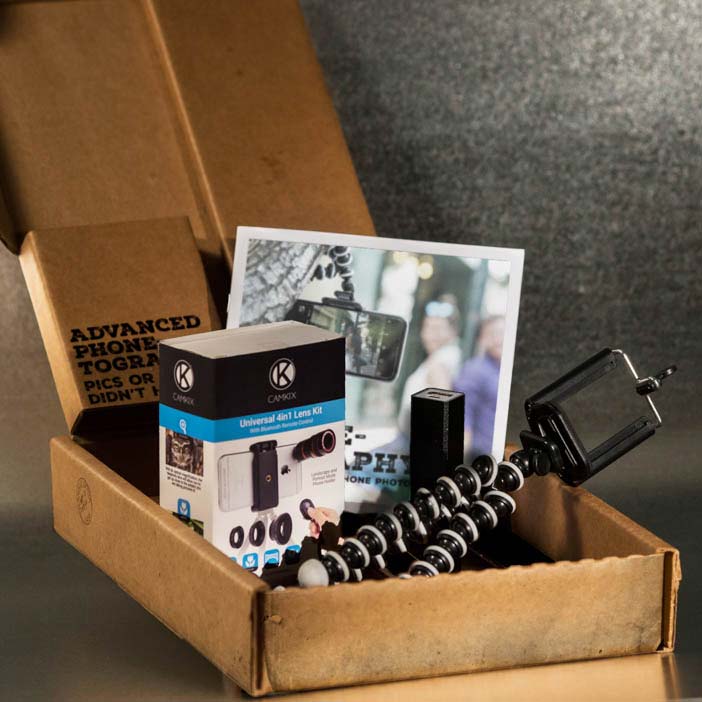 Phone-tography Pack
Oh no! Looks like Phone-tography Pack is out of stock
Click below to get notified when it's back in stock
Notify Me
In the Box
Eyes On The Prize
Macro Lens
Fisheye Lens
Wide Angle Lens
Telephoto Lens
Universally compatible clip-on design.
Camera Phone Support
Flexible Tripod (compatible with all phone sizes iPhone 6, Galaxy S7, Google Pixel or smaller)
Aluminum Jolt Power Bank (uses usb charging)
Phone-tography Booklet
Bluetooth Shutter Remote
How It Ships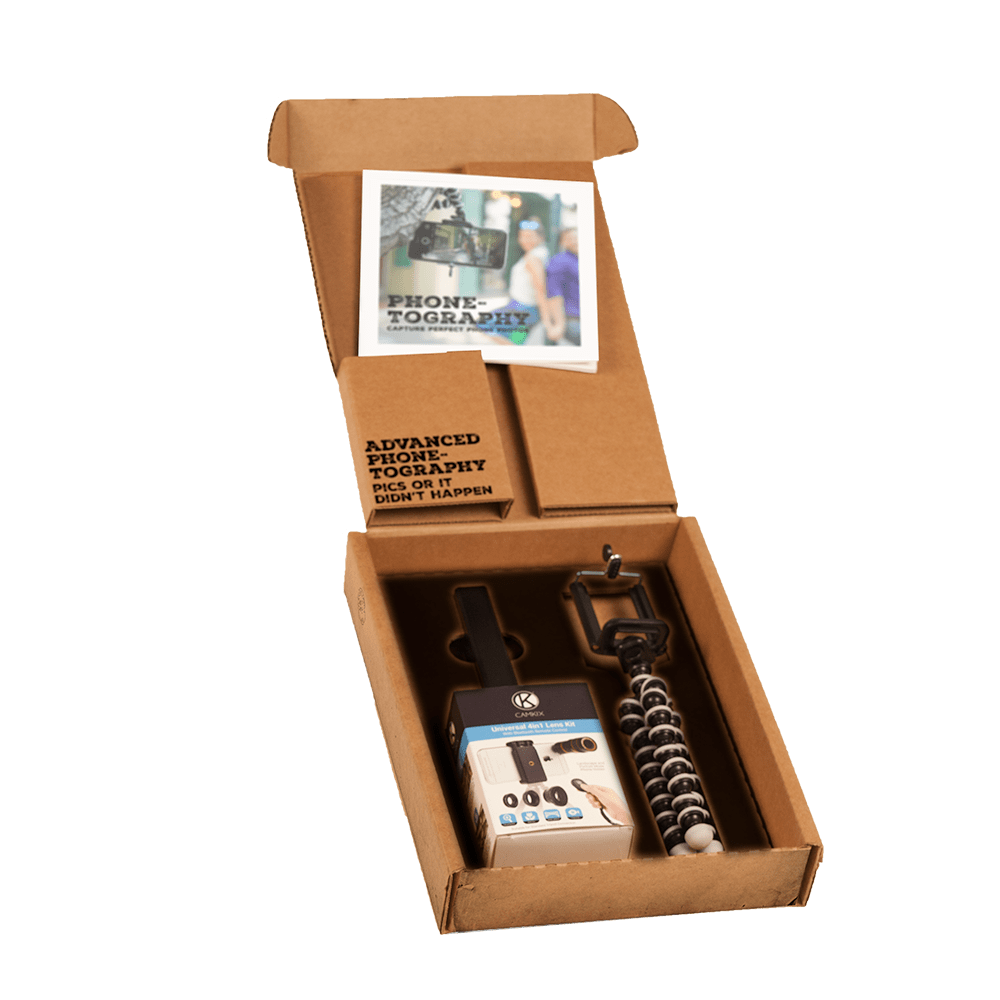 In an awesome cardboard box. Corrugated C Flute cardboard with regular slotted style... told you it was awesome!
---
Orders placed by noon PST will ship out same day

Choose your delivery date at checkout
100% Satisfaction Guarantee
We think our products are awesome, and we guarantee you will too. If you're unhappy with your purchase or experience for any reason, we'll make it right and give you the kind of service you'll want to high-five us for.
Seriously, just call or text us at (866) 902-7260 or shoot us an email at guys@mancrates.com.
Story
Pics Or It Didn't Happen…
...it's the blessing and curse of our new social media world. Everybody wants to be Instagram famous, but nobody wants to put in the necessary work—which is confusing because Instagram fame by definition means being famous for doing basically nothing.
Modern phone cameras are incredible, but great photography still requires craft, care, and equipment unknown to most unschooled phone-tographers. Phone-tography is more than just standing over a plate of food on a wooden table then dousing that photo in a Hudson filter.
Behind most aspiring Instagram personalities are Instagram husbands, boyfriends, brothers, or fathers snapping tirelessly until they get it right. The Phone-tography Pack is the gear and guidance to get it right.
Lens Friends
The Phone-tography Pack is fronted by the Camkix 5-piece lens kit, a go-go-gadget pocket pack of clip-on phone camera lenses designed to capture and create photo-glory. The universal lens clip fosters quick and easy swaps between lenses.
The fisheye lens is an ultra wide-angle lens with a convex effect designed to capture rich sceneries like the Gardens of Versailles or a grimey skatepark. The wide angle lens will score perfect sunset/nature pics, the macro lens is great for getting all up in someone/something's business, and the telephoto lens works for extra magnification.
Most importantly, the Bluetooth Shutter Remote will successfully capture the legendary two-handed selfie.
Photo Reinforcements
The CamRah flexible tripod is instrumental for steady shots regardless of terrain. It can be set up on rocky ground, wrapped around a tree, strapped to the back of a skinny dog, or folded into some fancy headwear.
And what good is hiking a mountain or wearing a clean shirt if the perfect selfie is lost because of a dead battery? This portable USB charger helps the advanced phone-tographer never miss a self-aggrandizing moment.
The Phone-tography Pack includes a Man Crates-exclusive booklet of advanced phone-tography quick tips guaranteed to score 'likes' and blow minds.
PLEASE NOTE: THIS ITEM CANNOT SHIP TO AN APO ADDRESS.
Customer Reviews
Just what I needed for my iphone 6s

These products were just what I needed for my pics.
Tripod and power bank work great for my hikes/backpacking. I am able to set them up anywhere (rocks/branches/logs) and take as many pics as the scenery has to offer. On that note, the bluetooth remote is a must. IT is so much better than hitting the timer and running back to position. It's not always easy to climb back to where I was in 10 seconds. It paired and worked super easy with my phone.
All the lenses are great, especially the fisheye and telephoto. The fisheye has been able to get that extra scenery, person and the well trained, but photo shy wandering dog in the pic and it gives it a little extra flavor as well. Got some great wildlife (moose and elk) pics with the telephoto. It adds that bit of extra detail that makes them pop.
Haven't looked thru the booklet yet, but I'm sure it will take my weekend warrior pics to the next level.

Disappointed

I ordered this for my boyfriend and I'm so glad I shipped it to myself. The box is so dirty on the outside it is almost black instead of brown. It took 3 people to get into the box, so by the time it was opened it looked like a box someone pulled out of the bottom of a trash bin. I really expected something a little nicer for $75.00. I will repackage and hope he likes it.

------

MAN CRATES EDIT:

Melanie,

So sorry to hear about your order! Please give us a buzz at 866-902-7260 and we'll do our best to get you a clean box, or help make up for you having to get one!

-Team Man Crates

Not impressed

Got this as a gift for xmas. I have a Samsung S5 and LG HD. The lenses aren't large enough to cover the phone lens, so you get a dark halo around the image. The lens quality isn't that great either. All in all, I'm sad my loved one dropped $75 on this, when it's maybe worth about $25.

------------
MAN CRATES EDIT:

Hey there Jeff, so sorry to hear that you're unhappy with your lenses. It sounds like they may not be compatible with your phone type as the phone styles you mentioned are both considerably bigger than the ones listed as being compatible. We'd be happy to get your order switched out for something you'd enjoy more! Give us a call at 866-902-7260 or send over an email to guys@mancrates.com and we'll get you hooked up!