In the Box
Cured and Cooked
Man Crates Bacon Curing Instruction Manual
Secret Rub Recipe
Bacon Cure
Hickory Smoker Bag
Dial Meat Thermometer
NOTE: Baconology Kit does not ship in a crate.
How It Ships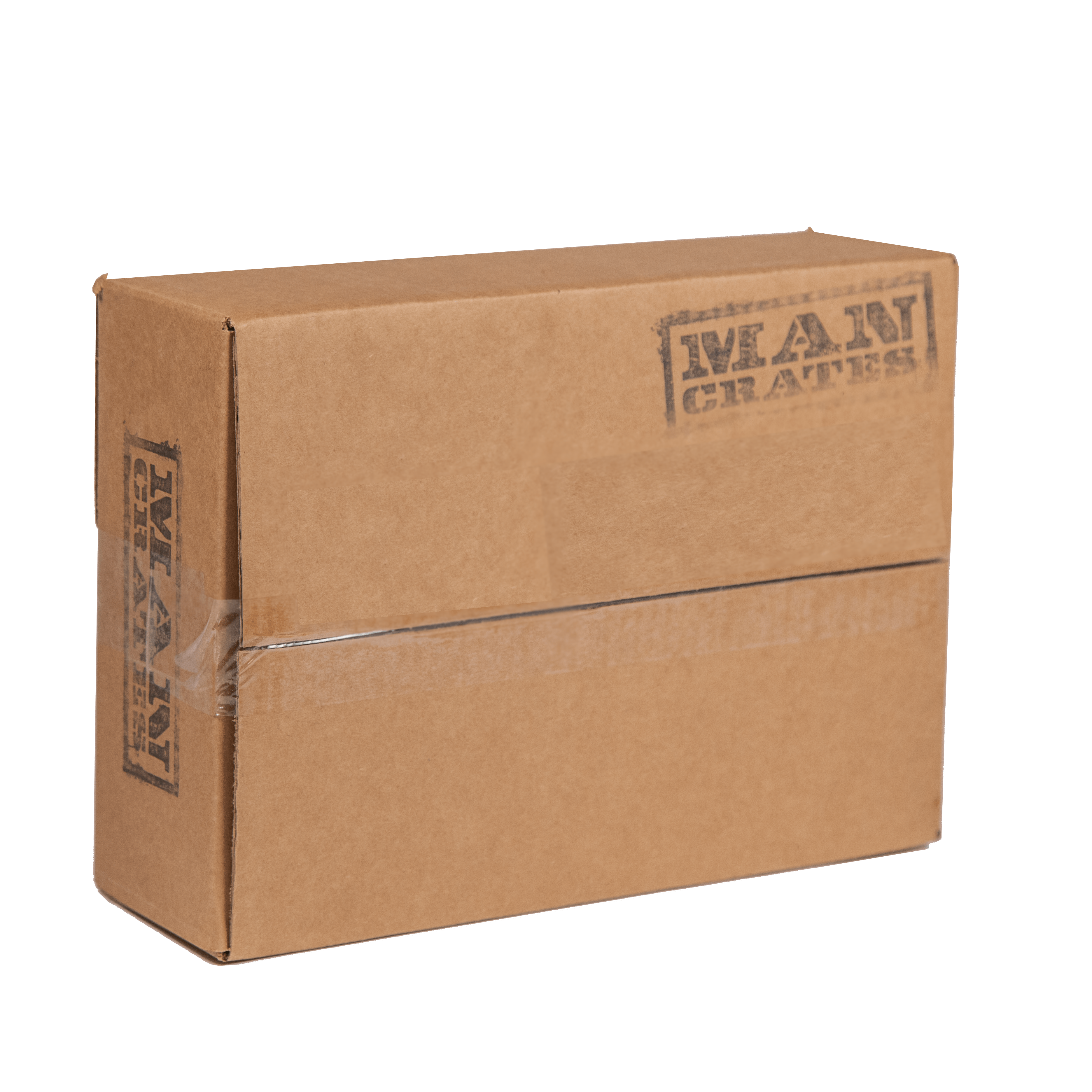 In an awesome cardboard box. Corrugated C Flute cardboard with regular slotted style... told you it was awesome!
---
Orders placed by noon PST will ship out same day

Choose your delivery date at checkout
100% Satisfaction Guarantee
We think our products are awesome, and we guarantee you will too. If you're unhappy with your purchase or experience for any reason, we'll make it right and give you the kind of service you'll want to high-five us for.
Seriously, just call or text us at (866) 902-7260 or shoot us an email at guys@mancrates.com.
Story
Bacon It Rain!
It's impossible to go wrong with bacon, but only true students of the curing craft know just how right bacon can be. After pounds and pounds of delicious experimentation, we've divined the optimal seasoning and sizzling conditions for frying up prime time swine.
The Baconology Project Kit is spreading charcuterie skills to the masses and filling houses round the world with the savory smell of self-actualization.
Curing Your Bacon Blues
When it comes to amazin' bacon, the power is in the powder. We've tinkered and toiled with countless rubs and curing salts to optimize the ideal recipe. Any pork belly caressed with these sweet and savory swine refiners will be flavor heavy and fry ready in no time.
Where There's Smoke, There's Bacon
Bacon isn't bacon without the soft, lingering embrace from the smoke of an aromatic American hardwood. We're sending Cameron's Smoker Bag, which is basically an expensive, complex smoker in bag form, and a dial thermometer to keep the bacon from burning.
The Baconology Project Kit is a masterclass for savory slices of bacon season in triumph and sizzled to perfection.
Customer Reviews
My dad loved it

Got it last Christmas for my dad and he loves the process and both he and my mom over the flavor they talked about it. Going to re gift this year x2!!!

Read before you buy!

I ordered a crate and added the baconology kit. It said that it didn't come in a crate (what did you expect for 30 bucks less discount)?

The price for the baconology kit does seem somewhat salty but if it yields the kind of bacon the reviews state, it will be worth it. The crates are an upscale novelty gift so if you want a fun gift for a barbecue tecchie, dig down and make with some cash Ebeneezer! We are going to get plenty of pics watching the recipient open this, should be great fun!

Husband loved it!

Bought this for him for Christmas last year, took me a bit to find pork belly where I live (everything is a hop skip and a hour jump away), but once I got some he was in heaven and bragging to all his buddies about his awesome bacon he made.

I read everything about an item before purchasing!

10 out of 5 stars!! I read every review about this kit not coming in a crate AFTER I had ordered this kit. When ordering, I read the whole description, saw the picture of the box it came in, and still ordered. My fiancé loved it so much that he kept asking me if the site sold the belly rub and curing salt separate because he refuses to buy store packaged bacon now! We go to our local meat shop (Sniders Brothers Meats) and get a pork belly, and smoke our bacon in our smoker! I don't care that this kit didn't come in a crate, I think it was the perfect gift for a man who LOVES to create his own food. I've now order two kits that don't come in a crate, and am now looking at ordering one in a crate since I know how great these kits really are! Thank you Man Crates, you have a very happy couple of costumers :)

It is the best ever!!!

We added this kit to the grilling crate when we ordered it, it come separate. My son got the pork belly and did the whole bacon Ology directions driven bacon. It is the best bacon we have ever had PERIOD!!! I am from Nashville Tennessee and Bacon is a SERIOUS business. I just ordered a kit to go to my dad who makes Bacon every morning. We used the smoker bag in the oven. We did 3 pounds. I so wish we had done 10. Don't judge a box by its cover. Hooked and worried they will stop carrying this. Soooo good!!!