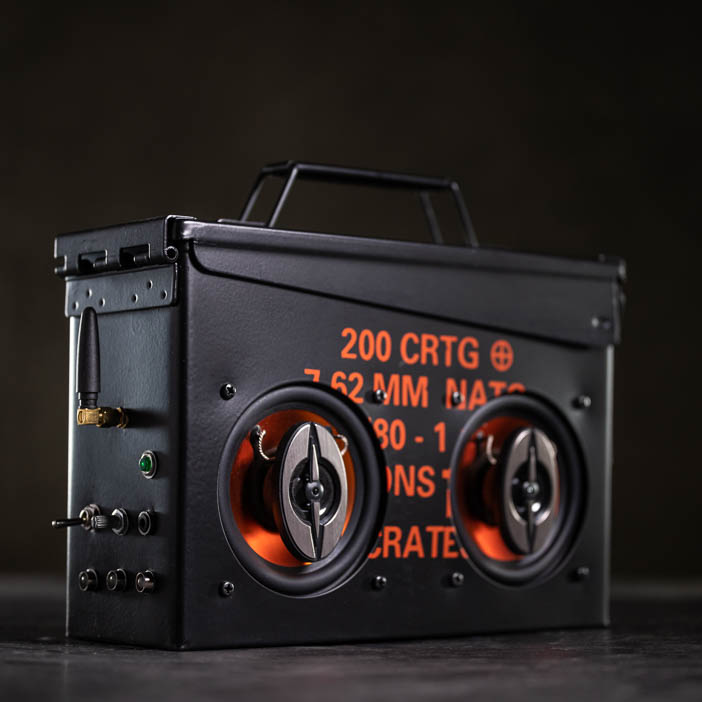 Ammo Can Speaker Kit 2.0
Oh no! Looks like Ammo Can Speaker Kit is out of stock
Click below to get notified when it's back in stock
Notify Me
In the Box
Jam Session
Personalized Ammo Can with Machined Cut-outs for Speakers
4" Audio Speaker Set, CH4230
5/16" Titanium Drill Bit
3000mAh 3.7V Batteries, 3 units
40W Power Adapter with plug
Lithium Battery Balance
2 X 50 Watt Class D Amp Board with Bluetooth™ 4.0
Cable bundle
Acoustic Foam and mounting materials for Amplifier Board
How It Ships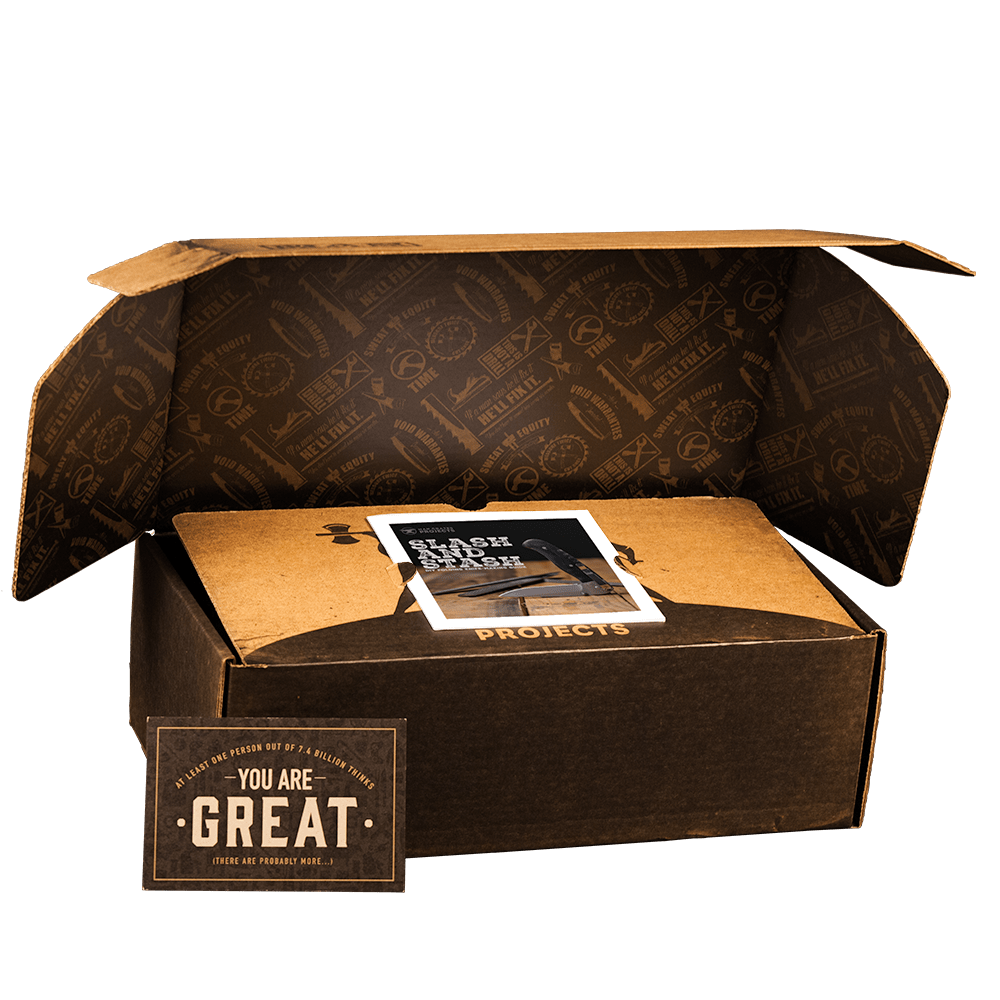 In an awesome cardboard box. Corrugated C Flute cardboard with regular slotted style... told you it was awesome!
---
Some shipping restrictions apply

Choose your delivery date at checkout
100% Satisfaction Guarantee
We think our products are awesome, and we guarantee you will too. If you're unhappy with your purchase or experience for any reason, we'll make it right and give you the kind of service you'll want to high-five us for.
Seriously, just call or text us at (866) 902-7260 or shoot us an email at guys@mancrates.com.
Story
Back in Black
This ammo can's original contents once produced enough sound to deafen its owner several times over. Now, he'll get to enjoy restoring explosive sound to this explosion-proof canister. Most quality speakers are either leashed to an outlet or too delicate to take anywhere. This ammo can speaker system is indestructible and can go wherever the party goes, or better yet, bring the party wherever it is.
Our first version of this indestructible speakers was a huge success, but we weren't satisfied. With the Ammo Can Speaker Kit 2.0, we've kept the best and improved on the rest so he can haul amazing, indestructible sound from the beach to the backcountry.
All Assembly Required
The NATO spec .30 cal Ammo Can is water resistant, virtually indestructible, and now in a sharp black finish. We've done the hard work breaching the sides to make room for the incoming speakers, but he'll have his hands full designing layout and drilling holes for the other inputs.
The upgraded JAB2-50 Amplifier Board and 4" audio speakers deliver high-quality sound from compact equipment. The included power adapter can be charged for hours of high-powered playback, and the improved bluetooth chip and auxiliary input jack offer two ways to rock out.
Build-A-Boom Box
All of the necessary instructions and mounting supplies for building this powerhouse music player can be found in the Man Crates instructional guide. Most importantly, this guide also includes two high-quality curated playlists of songs from the greatest decade of them all...the 80s.
From supply drop to beat drop, the new-and-improved Ammo Can Speaker Kit 2.0 harnesses the power of jammunition to bring the party wherever it goes.
PLEASE NOTE: THIS ITEM CANNOT SHIP TO APO/FPO ADDRESSES.
Customer Reviews
How I Spent my Saturday Morning

I received this as a Christmas present from my wife because she knows I like to mess with stuff. Well it took me a year to get to it, but when I finally did I found myself more than satisfied with the results. I was especially impressed with the instructions. Actually, the instructions are pretty vague but that's the beauty of it. It separates the men from the millennial pajama wearing, man-bun, effeminate. I had to repair the volume control connection on the circuit board, but having a homie that has soldering skills helps. The sound is awesome. It's too bad this had been discontinued. It's an excellent gift for a dude.

Booming Sound from an Ammo Can

Received this kit from coworkers while recovering from a motorcycle collision. It was easy to set up and assemble. Took me 3-1/2 to 4 hours from start to finish. Charged the batteries all night before running the amps on battery power. Music played from line-in and Bluetooth connections. Only discrepancy was the charging and Bluetooth leds were switched on the connection diagram. Sound quality is great!

Blue Tooth?

I ordered the Ammo Can Speaker Kit 2.0 for myself...as my wife says that Christmas comes to me every month...so why not?

The kit goes together easy enough. I guess real men either don't need instructions or won't read them. The instructions that come with the kit is pretty sparse. You need to drill eight holes but only 7 are pictured.

Not a fan of black ammo cans. So as soon as I drilled the eight holes I painted it Olive Drab. This will go much better with my WW2 jeep, a 1942 Ford GPW. Also, not a fan of chrome or silver so I painted the speaker (horns?) OD as well. A neat touch that would improve the kit would to include some black wire covers like those that go on computer fans. I've ordered some 120mm grills to see if I can get these to fit. Just need a bit longer screws and some pipe keep the grill off of the speaker.

The tape to hold the boards to the can slipped so I ended up mounting them to the wall of the can instead of the lid which is what the picture looked like. All of the wires except the blue tooth antenna are really, really long. The blue tooth is very short and the snap on fitting is a pain. It fell off when the board shifted from the tape. I'm sure the tape would work better if there were more flat surface space on the board and the can.

I guess I don't fully understand blue tooth technology. I turned the box on and my phone found the device and paired with it. However, it has difficulty connecting. I'm like 6 inches away and still no connection. There are some steps that I haven't quite memorized yet. Flip the device on and off a couple of times and then eventually it will connect with my Pixel 2 XL. And when it does, it sounds GREAT.

I'm looking forward to testing out my new sound machine in my jeep as I drive it around playing tunes from the 1940s. The ammo can should blend in.

He Loves it!!

He is a tinkerer and music lover, so I thought this would be perfect. He loves it! The sound quality is good, putting it together was fun for him, and it's LOUD which he loves.

The instructions are not exhaustive, which was scary at first, but after he got to looking at everything he figured it all out without issue.

This is a really awesome gift for a man

I bought this gift for my boyfriend for Valentine's Day I had it delivered where he works, he said he was pleasantly surprised and really loved the gift I picked this gift because he owns guns and riffles and likes the ammo cans he has a collection, so it was totally unexpected and his coworkers and boss were really jealous. I have bought many gifts from man crates for my boyfriend, son and my daughters boyfriend and loved them all when it comes to a man man crates knows excatly what to do needless to say I'm one happy and satisfied customer.

Thanks MANCRATES team 👍🏽