In the Box
Man Crates Leather Belt Making Guide
Buffalo Leather Belt - Blank
Hole Punch
Leather Belt Component Kit (Includes two screw rivets, belt buckle, belt keeper, and 4" x 4" poly board)
NOTE: Leather Belt Making Kit does not ship in a crate.
How It Ships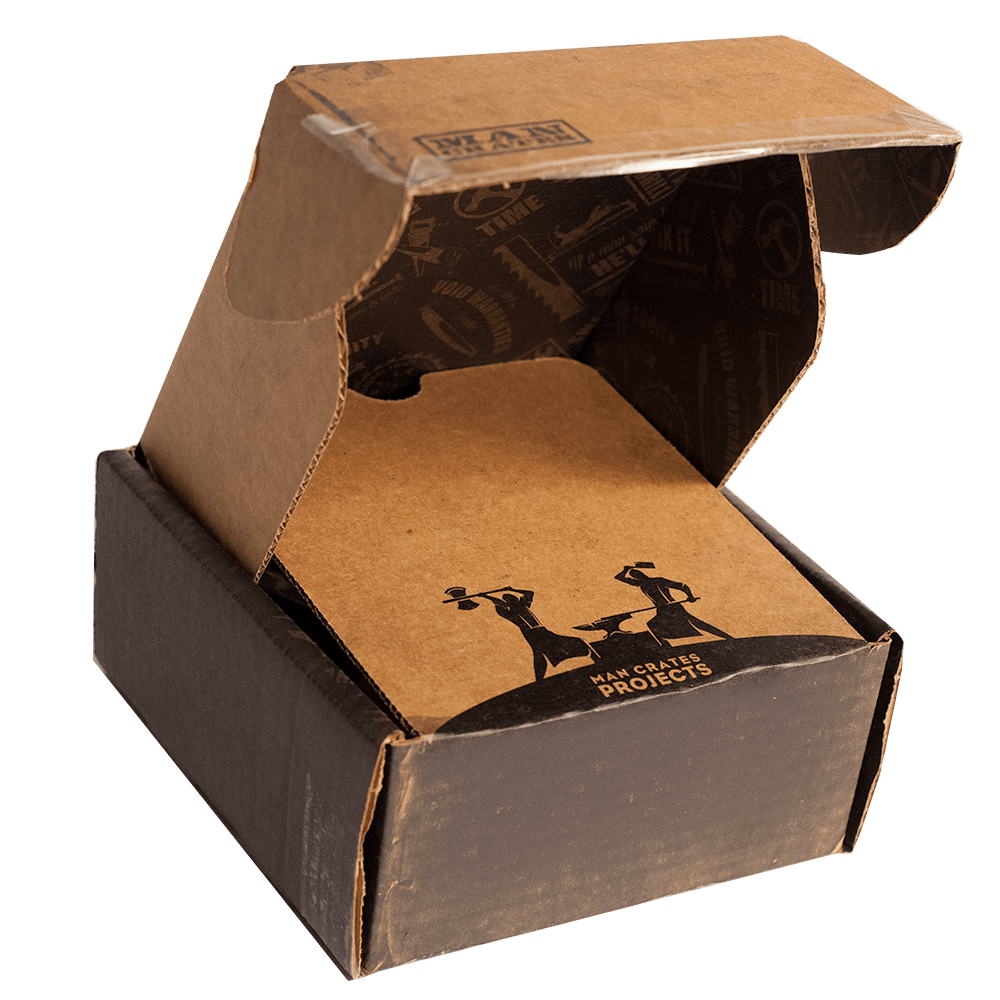 In an awesome cardboard box. Corrugated C Flute cardboard with regular slotted style... told you it was awesome!
---
Orders placed by noon PST will ship out same day

Choose your delivery date at checkout
100% Satisfaction Guarantee
We think our products are awesome, and we guarantee you will too. If you're unhappy with your purchase or experience for any reason, we'll make it right and give you the kind of service you'll want to high-five us for.
Seriously, just call or text us at (866) 902-7260 or shoot us an email at guys@mancrates.com.
Story
Take His Slacks To The Max
A good belt will keep his pants up, but a great belt will also uphold his keen sense of style. With belts, fashion is as important as fit, and if he's going to be strutting his stuff all over town, he deserves the hippest of hip huggers.
Sure, you could roll the dice on a faux-leather, one-size-fits-none department store belt, but too much slack and you risk leaving him in a rather exposed predicament. No one knows the delicate contours of his waistline like he does, so it only makes sense he'd be the one to fashion his own fashion accessory.
The Leather Belt Making Kit gives him all the tools and guidance he'll need for hands down the best pants-up experience imaginable.
Get Him Waisted
Headlining the Leather Belt Making Kit is a 50-inch solid strip of oil-tanned, full-grain buffalo leather, our premier choice when showcasing the waist. The kit also includes a classic bar buckle, screw rivets for buckle swapability, a hole punch for leather puncturing, and a 4" x 4" poly board for countertop non-puncturing.
With a little elbow grease, imagination, and unwavering obedience to the Man Crates instruction guide, he'll emerge from his workspace with a durable, high-quality belt that will have him constantly reminding oglers his eyes are "up here."
The Leather Belt Making Kit is a fantastic introduction into both leatherwork and the world of fine fashion from the waist up.
Customer Reviews
Highly Recommended Project

The belt-making kit was my 5th ManCrates project - I built the Folding Knife, the Tactical Tanto, the Barrel Smoker, and the Watch kit before tackling this one.

The leather is excellent quality, and easy to work. I am extremely pleased with the finished product. I even had enough leather left over to make a bracelet for me and one for my wife, using extra studs that I purchased locally.

Highly recommended for beginners & experts alike.

Notes for the belt-builder -

1) The rivets in my kit needed a Phillips head 1 (PH1) screwdriver.
2) When cutting, a fabric cutting wheel & mat help speed up the process and produce clean cuts.

Thanks ManCrates - Well Done!

Great Project!

A nicely packaged quality leather strip with all the fixins. Easy to understand instructions and my two hands had this belt constructed in no time.

Loved it

I bought this for one if my sons
He enjoyed it. We wish it had tools to emboss the body of the belt. A way to personalize it

My girl

I received this kit for Father's Day. It looked good, but I held back on execution until the proper time when my fam could watch me craft it.

This is exceptional leather and allows a bit of artisan work. I took my formally fav belt for measures and used some sharp crafting tools.

It came out perfectly and I'm not sure I'll ever have another favorite belt.

This is $150 to 200 quality if your hands are good. Butter leather, perfect brown, and feels like something from the 1800's around your waist. So nice. A legacy piece.

Upset with packing

I knew the package would arrive in a cardboard box, which was a little bit of a bummer seeing that the item costs $70, but the most upsetting part is the shipping label was attached to the actual box, so I had to take the shipping label off and it ripped the cardboard "gift box". I'm sure the belt will be great, but I'm definitely not impressed with how it was shipped and may not order from this company again.

Man Crates Response: Hey there,

Thanks for your feedback, we're sorry to hear you were disappointed in your order! While we love sealing up great gifts inside wooden crates, we understand that not every recipient appreciates the sweat and struggle that can go into liberating them. That's why we've added a variety of items to our spread that ship out in other ways. Your gift could arrive in one of a few forms depending which item(s) you order, and if you'd like that gift wrapped in our Diabolical Duct Tape Cocoon.

If you're in the market for our namesake crates, keep an eye out for anything on our site that has "Crate" in the title. We've included a photo on each Product Description Page as well as just inside your Shopping Cart, letting you know this item is a crated one, and that it comes with one of our Man Crates crowbars.

We do our best to let you know how the item is shipping by showing a photo on the product's page and in your cart of how the item ships. We also let you know how the item is packaged in the product description itself.

That being said, we're happy to work with you to make this right by offering a discount or to arrange a cost free and hassle free return pick-up at the location of your choice if you just want a full refund. Give us a call at 866-902-7260 and we'll do our best to make you happy, thanks!

-Team Man Crates