In the Box
Gambler's Gauntlet
2 decks of custom playing cards
300 casino-weight, 11.5 gram composite chips
Exclusive poker chip insert
How It Ships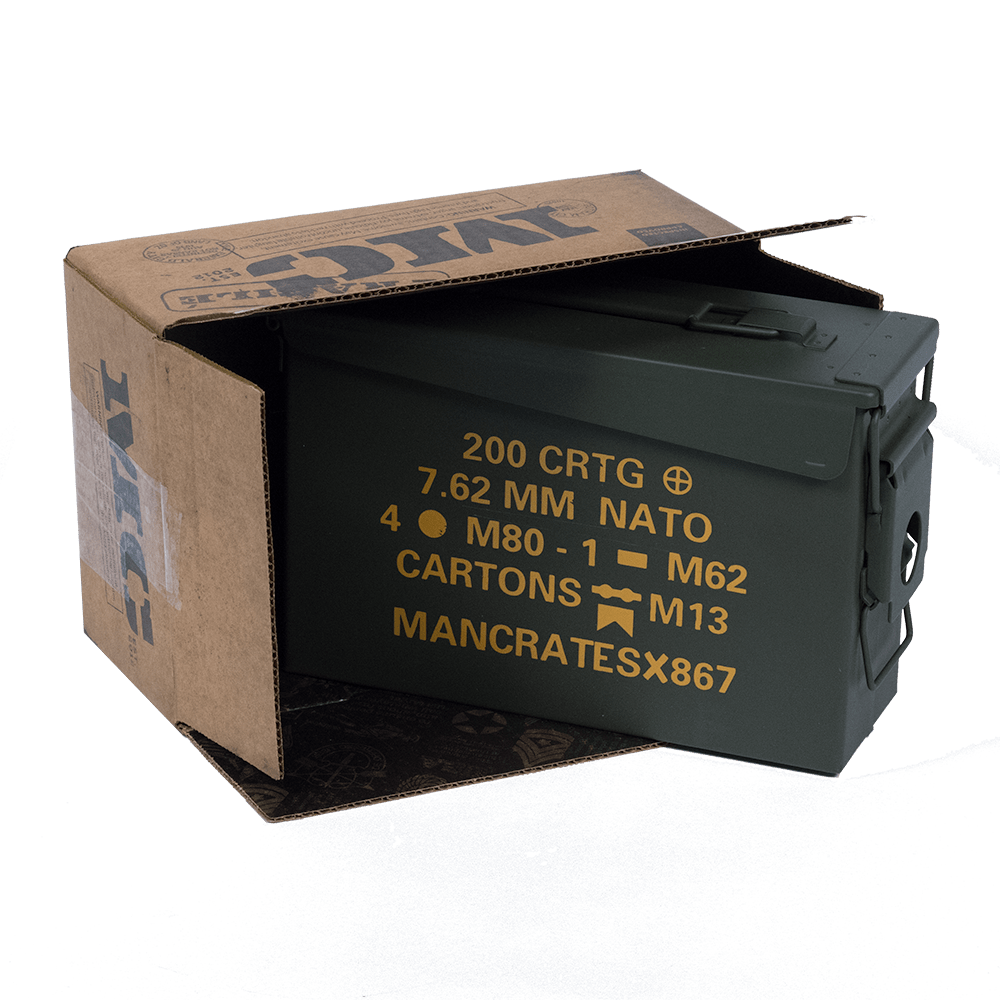 In a Man Crates Ammo Can. Air-tight, waterproof, and virtually indestructible.
---
Orders placed by noon PST will ship out same day

Choose your delivery date at checkout
100% Satisfaction Guarantee
We think our products are awesome, and we guarantee you will too. If you're unhappy with your purchase or experience for any reason, we'll make it right and give you the kind of service you'll want to high-five us for.
Seriously, just call or text us at (866) 902-7260 or shoot us an email at guys@mancrates.com.
Story
Only One Way to Win
The river card misses, your hand is still just a four card straight and a four card flush- you've got nothing but a busted draw. It's a three way hand with a lot of action- there's only one way you're winning that huge pot. It's time to bluff, but even the best bluffers need a poker set worthy of such a daring gambit.
Introducing the brand-new, ammo can poker set - the most functional and toughest 300-chip poker set ever designed, featuring custom artwork and custom cards in a .30 cal ammo can.
A One-Of-A-Kind Poker Set
We set out to build the most awesome poker set in the world--better than the thousands of briefcase-style poker sets out there. The top-loading, space efficient chip housing is perfectly fit to a .30 cal US military ammo can. This design is incredibly durable and provides easy access to the chips and cards without ever spilling them.
Beautiful Design
Poker is dear to us- especially the short-handed, no-limit hold'em games where the only way to win is to bet and bluff aggressively. We wanted our set to be as beautiful as it is functional, so we set out to find artwork that would pay homage to the game and fit with the theme of the ammo case. We combined the sphinx from Greek mythology with classic card elements and US symbology to create our insignia- the mark of hyper-aggressive no-limit poker players.
The sphinx forced travelers on the road to answer her riddles or be devoured- she embodies the poker player that forces her opponents to make difficult decisions, often for all of their chips. The arrows are drawn from the US seal, representing readiness for war on both fronts. There is no olive branch in poker.
Custom Poker Cards
We wanted our poker set to reflect our love of the game, to match the military theme of the poker case, and to make the set as beautiful as it was functional. We designed original artwork for a set of two Sphinx-themed custom backed decks from the U.S. Playing Card Company:
Official-Weight Custom Color Poker Chips
As longtime poker players with a slew of chip tricks, we refused to compromise on chip weight or feel, so we sourced high quality, 11.5 gram composite poker chips in custom colors. This poker set includes 300 pro-style 11.5 gram composite poker chips.
Customer Reviews
Coolest Poker Set Ever!!

I purchased one of the poker sets for my husband, this last Christmas. He is one of the hardest people to shop for and I I pretty much dread trying to figure out what kind of gift to get for Christmas oh, then our anniversary, then his birthday, then Valentine's Day... I was overwhelmed trying to figure out what to get until I ran across an ad for man crates. I was so impressed I ordered several items give him for Christmas and Valentine's Day. He was genuinely impressed with the creativity of the gifts he received ...he seemed to love every one of them! Especially the Exotic Jerky crate. (I believe, his favorite was the alligator). He didn't even let me have a bite...😥.

Anyway back to the poker set... . It's quite The Conversation Piece... I don't like to share so I had to order one for myself . ... lol. We've been talking about putting together a friendly weekly or bi-weekly poker game in these poker sets are going to be the center of attention. I'm more than thrilled with everything we got from Man Crates. He needed a new belt as well so I bought the kit to make your own belt. I was very unsure as to whether he would like that or not. However, within a couple days he had his belt finished and I'm happy to say he's told me several times he's in love with it.

It's the perfect place to order gift for the man who has everything or one who's hard-to-shop-for on any occasion.

He was amazed and loved it!

I got this a few years ago actually, for my now finance's birthday. I made him carry it because it does have some weight to it. The Whole time I heard "WHAT did you get me??" When he was finally able to open it, he was very surprised and absolutely loved it! It's still looks brand-new, great quality pieces, and the ammo can was an added bonus of awesome! His dad plays poker regularly and was a little envious of the white set up. I have recommended Man Crates to all my friends, seriously. It is the go-to place for men who are hard to buy for! I love man crates!

Happiest Card Shark

My poker loving boyfriend just got his set and he's like a kid in a candy shop. He's got all the chips around him and is thumbing through the decks in awe. And his favorite part of the delivery might have been when the fedex guy threw the package against the door and he responded with his gun thinking someone was breaking his door down. Thanks Man Crates for giving my boyfriend awesome poker sh*t and an exciting afternoon!

Awesome poker chip ammo can

Folks... Retired US Army Apache Pilot Here... Won my Man Crate poker chip ammo box in a Texas Hold'em tournament... Ammo box is legit 7.62mm... chips are as described... Vegas style... Strongly recommend to all of my military brothers and sisters on deployments... I've won a game or two in my day but coolest prize ever....

Specter 28
A Company 1-101st
"Expect No Mercy"

Poker Set Ammo Can

The Poker Set Ammo Can that we received was almost as good as the customer service that I've gotten from ManCrates the past two years. The product itself fits perfectly within the ammo can and has over 300 Vegas-weight chips and a couple nice decks of cards. The ammo can is legit...clamps down tight like the real ones do to keep them from any damage. Great gift and again, fantastic service. Thank you...