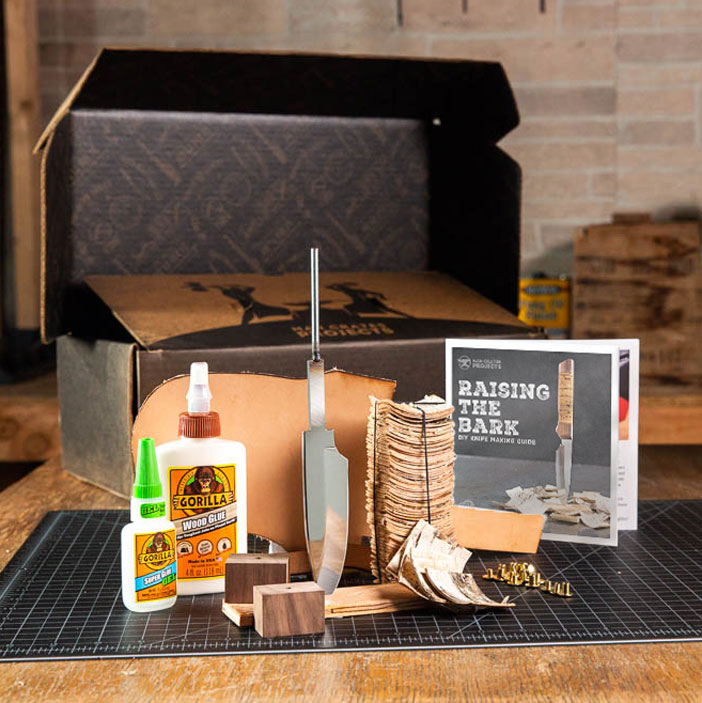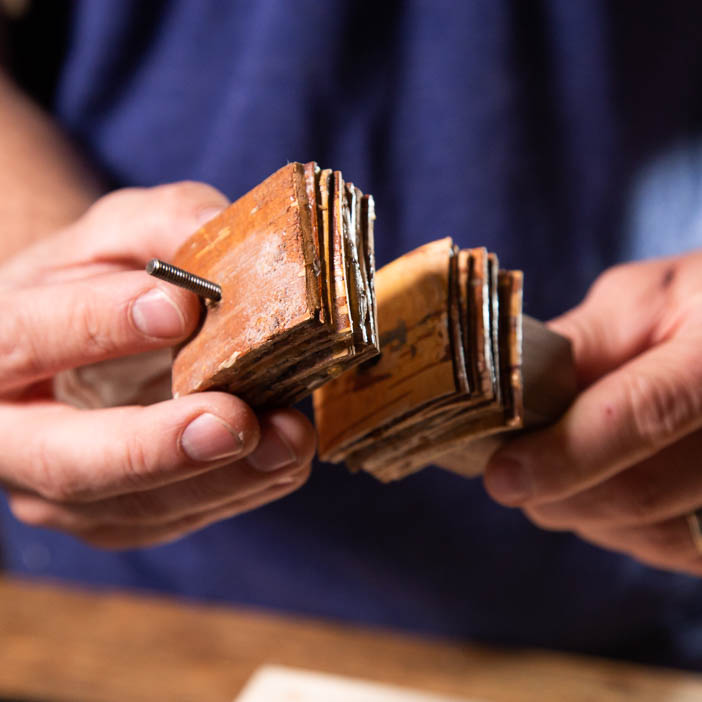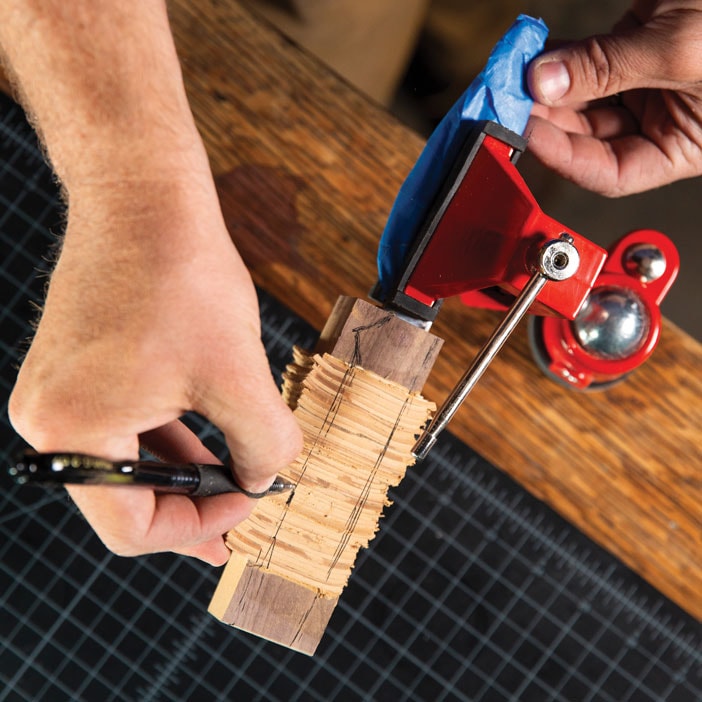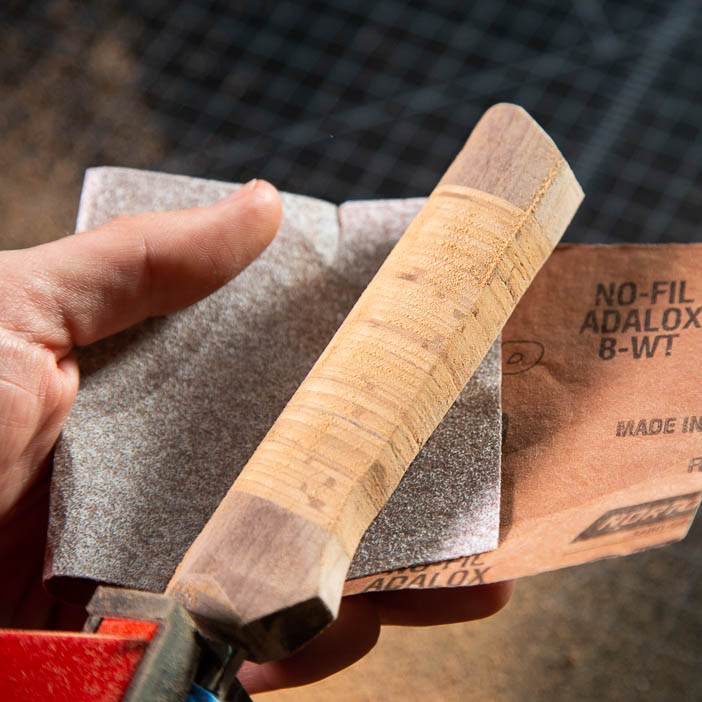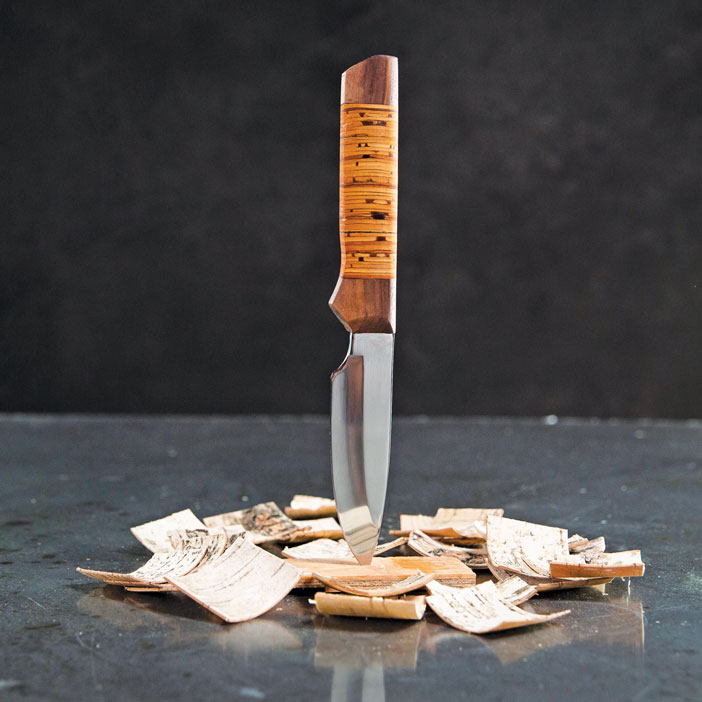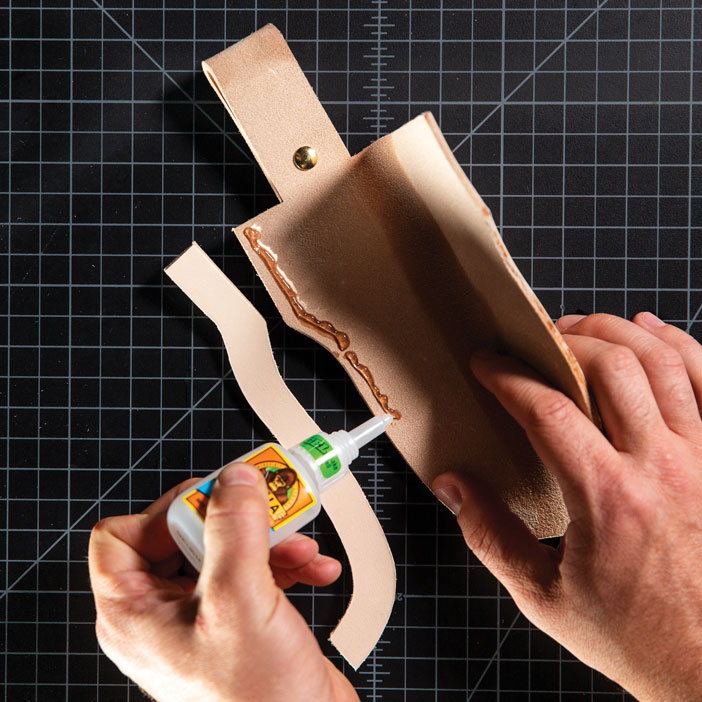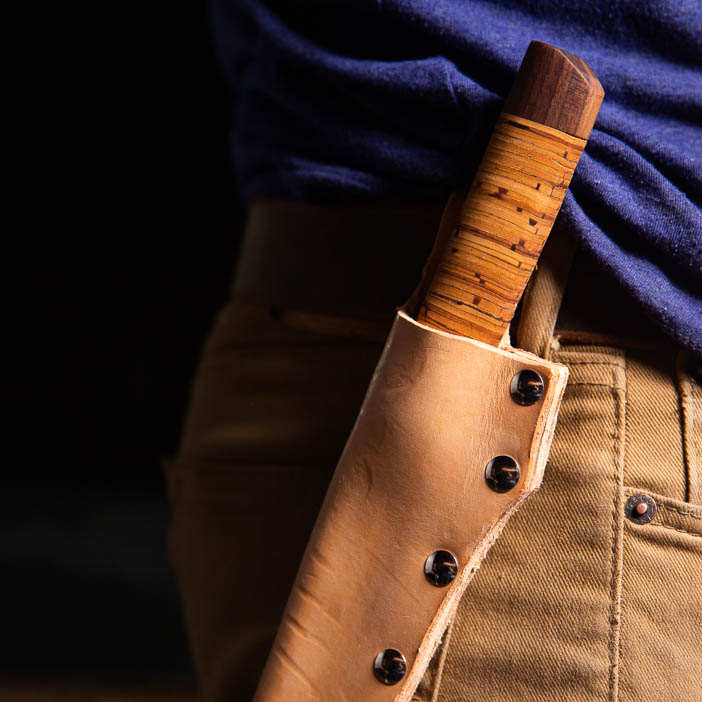 Expert Knife Kit – Stacked Birchbark
local_shipping
Eligible for Free Shipping
In the Box
6A Steel Drop Point Hunter
Birchbark washers
Walnut slotted guard
Walnut threaded pommel
Wood Glue (4 oz)
Die-cut leather
7 Screw Rivets
Gel Superglue
Instruction Booklet
How It Ships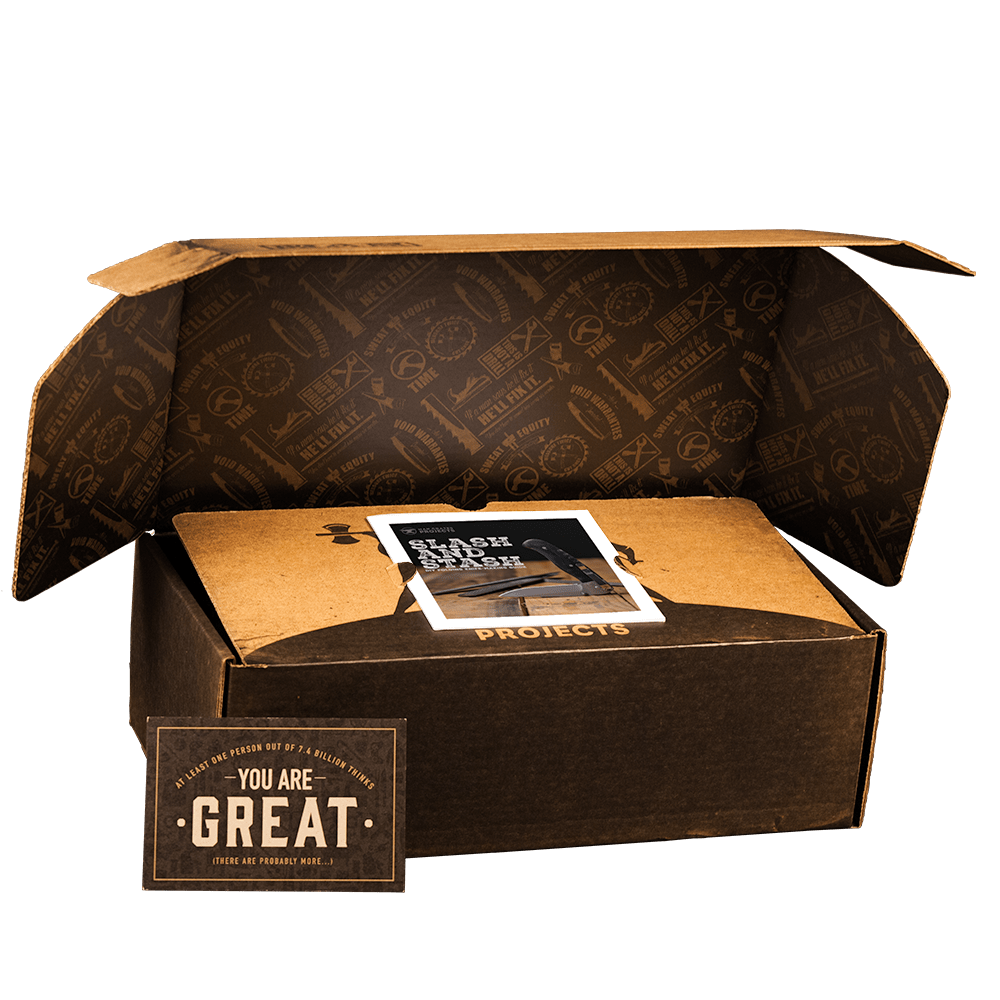 In an awesome cardboard box. Corrugated C Flute cardboard with regular slotted style... told you it was awesome!
---
Order today and it ships the next business day

Choose your delivery date at checkout
100% Satisfaction Guarantee
We think our products are awesome, and we guarantee you will too. If you're unhappy with your purchase or experience for any reason, we'll make it right and give you the kind of service you'll want to high-five us for.
Seriously, just call or text us at (866) 902-7260 or shoot us an email at guys@mancrates.com.
Story
Barking Up the Right Tree
A knife handle is much more than "the part you grab on to." It's an extension of a hunter's hand and an expression of artistry. That's why the Scandinavians carry on a longstanding tradition of stacking birchbark to fashion their knife handles. The soft, close-grained bark gives the handle a velvety feel that makes it a pleasure to carry. He may even try to keep it in his tight grasp as he falls asleep at night.
The Expert Knife Kit – Stacked Birchbark comes with a complete set of unassembled knife bits, including a stainless steel hunter blade, birchbark washers, screw rivets, walnut guard, and threaded pommel. But unlike Ikea furniture, putting it all together will actually be a delightful challenge. Though he might work up an appetite for oddly inexpensive Swedish meatballs.
If he's achieved expert level status as a knife maker and is in search of a new challenge, he certainly won't besmirch the birch.
Note: This kit is designed for more experienced knife builders who already own the necessary tools (including a vise, rasp and file, and a 3/16" drill bit). If he doesn't have those tools already, be sure to add-on the Projects Tool Set during checkout.
Handle with Comfort
He'll marvel at the durable 8A stainless steel tang blade made of carbon, chromium, and the highly underrated vanadium. It registers a 58-59 on the Rockwell hardness scale, which means it's a lot harder than stuff in the 30-40 range.
The main squeeze of this kit is the handle, which he will fashion from several handcut birchbark washers.
Though he'll have a hard time ever letting go of that silky smooth handle, he can create a hip-hugging home for his knife with the leather hunter sheath kit.
The 12-page assembly guide is full of step-by-step instructions and good ol' fashioned nordic know-how to help him craft the ultimate hunter's knife.
Customer Reviews
Awesome!

Got it as an anniversary gift for my boyfriend and he loves it. My dad watches in jealousy lol.

Excellent Customer Service

I was on the verge of purchasing this item for my father in law's birthday. I am actually going to try to find something else on the website because I am definitely in it for the crate opening. I just wanted to say I am thoroughly impressed with your responsiveness and customer service. After having read how you've responded to criticism on this particular product, I am happy to support you folks. Any company that takes care of its customer's like you seem to do, is one I'll gladly give my hard earned money to. Good on ya M.C.

Most satisfying.

I got this as a Christmas gift. I can't express how satisfying it's been to form and shape the handle to my own whim. The sheath is a nice extra touch. Everything about this project is fun and absorbing. Makes me want to build another...maybe with leather washers for the handle material? I can't think of a single fella that wouldn't enjoy this kit.

Fun, but qc issues

Birch chips were good, the blade was good, but the pommel was not threaded. Since that is what acts as a clamp to hold the glued up handle sections, it was an issue. I had to use actual hardware I had and drill out the pommel and just epoxy it on. Not ideal. Will likely have to make a new pommel if/when this one comes off or loose. Disappointed that wasn't caught before shipping. Made it more of a project than I intended it to be. Lesson learned is to double check ALL fasteners and parts before starting assembly.

NOT in a crate :(

Ok, the product inside looks nice. It came SUPER fast all the way to Alaska. It's a gift for my husband, so he hasn't opened or used it yet. I am just very disappointed that it did not come trapped in a crate. I know now that it is labeled in the product description and I missed it. I just wasnt checking to see how it would arrive. I thought the whole point of this company was locking various amazing products inside a crate. I was certainly looking forward to my husband struggling to open the crate, not a simple cardboard box. It somehow makes the knife kit inside just seem lame. It's ManCrates for heaven sake!!! Where is his crate?? Super bummed!

Man Crates Response: Hey there,

Thanks for your feedback, we're sorry to hear you were disappointed in your order! While we love sealing up great gifts inside wooden crates, we understand that not every recipient appreciates the sweat and struggle that can go into liberating them. That's why we've added a variety of items to our spread that ship out in other ways. Your gift could arrive in one of a few forms depending which item(s) you order, and if you'd like that gift wrapped in our Diabolical Duct Tape Cocoon.

If you're in the market for our namesake crates, keep an eye out for anything on our site that has "Crate" in the title. We've included a photo on each Product Description Page as well as just inside your Shopping Cart, letting you know this item is a crated one, and that it comes with one of our Man Crates crowbars.

We do our best to let you know how the item is shipping by showing a photo on the product's page and in your cart of how the item ships. We also let you know how the item is packaged in the product description itself.

That being said, we're happy to work with you to make this right by offering a discount or to arrange a cost free and hassle free return pick-up at the location of your choice if you just want a full refund. Give us a call at 866-902-7260 and we'll do our best to make you happy, thanks!

-Team Man Crates