Personalized Mug Mini Crate
In the Box
Coffee Crew
Glacier Camp Mug, Black, 15 oz
Ultralight Java Drip Coffee Maker
Warrior Select Coffee Sample Pack, 2 oz
NOTE: Personalized items require two business days of processing time.
How It Ships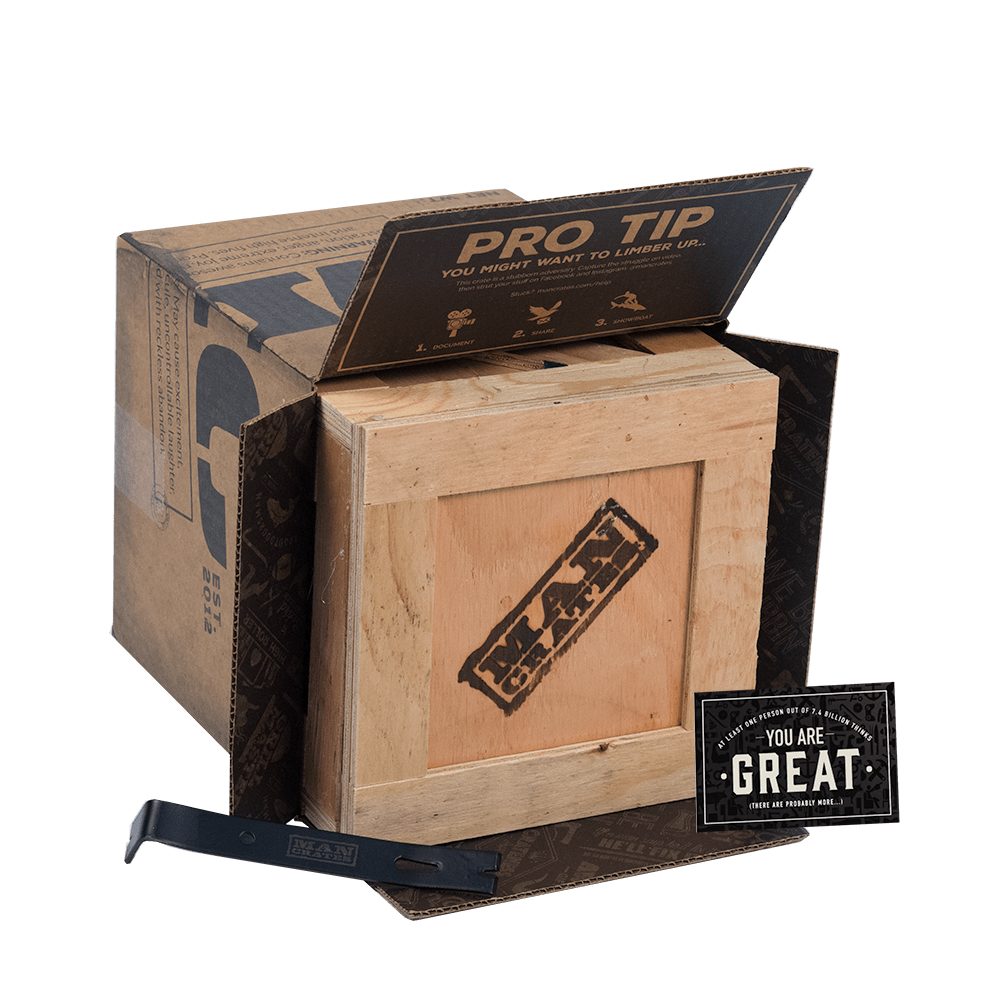 In a sealed wooden crate with a laser-etched crowbar.
---
Some shipping restrictions apply

Order today and it ships within 2 business days

Choose your delivery date at checkout
100% Satisfaction Guarantee
We think our products are awesome, and we guarantee you will too. If you're unhappy with your purchase or experience for any reason, we'll make it right and give you the kind of service you'll want to high-five us for.
Seriously, just call or text us at (866) 902-7260 or shoot us an email at guys@mancrates.com.
Story
Life of a Dripster
Some people wake up with coffee, and some people wake up for coffee.
With the former, coffee acts as a stable morning ritual: a caffeinated breakfast complement, or the patient carpool companion on the morning commute. With the latter, coffee is an all-encompassing religion: the ground of bean by which all existence and meaning flow.
These coffee-devotees are known as "dripsters," and they hold bean quality and brewing methodology to the highest possible standard. They refuse to compromise their values, and thus, the Personalized Mug Mini Crate is the dripster's dream come true.
Small Batch, Big World
No dripster has fully received coffee communion until they've drank from their very own personalized mug. This 15 oz. stainless steel mug proudly proclaims caffeine devotion to the world and can be laser-etched with the given family name or a newly christened dripster name.
Forever gone are the dark days of pouring commoner's caffeine from the office coffee pot. With the portable GSI Java Drip and Alpha coffee grinds, the dripster can now indulge in the perky perks of small-batch, pour over coffee anywhere.
The greater telos of coffee has been achieved in the Personalized Mug Mini Crate.
Customer Reviews
Best Father's Day Gift Ever!

I got the exotic meats crate for my husband and the tool boxes for both my dad and stepdad. Everyone LOVED their unique, manly gifts!!! The absolute perfect gift for Father's Day for all the men in my family!!!

Life saving crow bar

I purchased this man crate for my boyfriend for Valentines Day. Boyfriend loved that he could have coffee at my house and left everything at my house including the mini crow bar. Two days later my grown daughter was trapped in the bathroom for 45 minutes because the latch on the door was stuck open (antique lock that uses a skeleton key). I called a friend to ask how to get the door open and was told it would be easier to take the door off the hinges. I frantically searched my house for a tool I could pass under the door and saw the mini crow bar that came with the crate. I was able to pass the mini crow bar under the door so she could pry the pins out of the hinges and she passed it back to me to pry the door away from the trim. My daughter was free! I replaced the door handle with another antique handle and skeleton key and we decided to give the crow bar a place of honor in our bathroom - just in case.

Amazing Customer Service!!

Let me tell you! Talking to Tiffany was amazing in dealing with my mishap! Believe it or not, the fedex truck caught fire! She reordered my item and had it overnighted for me! You guys are amazing!

Shipping

Wow. For a custom item did not expect for my order to process and be delivered within 3 days from when I ordered. Very impressed and cannot wait for him to open this for Christmas. I will update/add another review of the product but I know there are plenty of reviews already that will support amd saw exactly what I imagine for us as well. :)

Shipping eta did not disappoint. It arrived a day early. AND I already thought the expected eta was pretty quick for custom around the holidays.

awesome!

This was my first time purchasing a man crate for my boyfriend. It was our one year of official dating and I stumbled upon "Man Crates." It was so much fun just watching him open the crate and he was super excited it came with a crow bar. He loved the cup and the quality of the product is amazing. I was surprised the engraving was as nice as it was, I thought it would just be printed on. I subscribed to the website because I definitely will be ordering more man crates in the future! I love that you can pick the date you'd like it delivered, which it was. We are new man cave fans! Thank you for whoever invented this idea- genius!