In the Box
Brewing Brouhaha
Micro Brewing Instruction Manual
1 Gallon Carboy
Air Lock
Bottle Caps
SMaSH IPA Kit
Pump Siphon
Bottle Capper
Sanitizer
Bottle Filler
Tubing
Carbonation Drops
How It Ships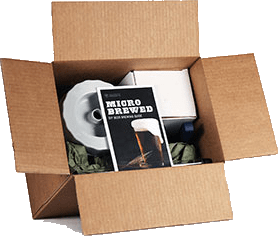 In an awesome cardboard box. Corrugated C Flute cardboard with regular slotted style... told you it was awesome!
---
Choose your delivery date at checkout
100% Satisfaction Guarantee
We think our products are awesome, and we guarantee you will too. If you're unhappy with your purchase or experience for any reason, we'll make it right and give you the kind of service you'll want to high-five us for.
Seriously, just call or text us at (866) 902-7260 or shoot us an email at guys@mancrates.com.
Story
BYOB (Be Your Own Brewmaster)
Beer is the Rosetta Stone of humanity, the one universally consumed and celebrated thread tying every culture and era of civilization together. The Sumerians wrote hymns to the exhilarating nature of beer, the Chinese experimented extensively with rice fermentations, and there's even cursory evidence of beer predating human history. (Those monkeys were crafty!)
In past days, the brewers were the esteemed men of the world, the gatekeepers to the ethereal knowledge of medicine, pleasure, and the divine. Nowadays, we've degraded the ancient craft to big industry corporations and a shoddy baseball team in Milwaukee.
The best way to restore rightful honor to the lost art of beer brewing, to bottle your impeccable taste on the most intricate level, is to do it yourself.
Get Weird With Your Beer
Start stocking your well-curated home bar with well-aerated home beer brewed in your very kitchen. The Micro Brewed project kit features the floral and citrusy aroma, balanced flavors, and American pedigree of Centennial Hops and a SMASH (Single Malt and Single Hop) Recipe that pulls everything out of the way to let the Centennial hops speak unimpeded.
And these hops have a lot to say.
The 1.5 gallon Little Bubbler gives more head room than a topless Jeep Wrangler for the most robust of beers, yet is small enough to fit comfortably in a Brooklyn wash closet of a studio apartment. The one gallon batch size invites more freedom and creativity into your recipes, so you can embrace your artistic genius unimpeded, with less pride to swallow if your secret ingredient is less hit and more miss.
Fermentation Activation!
Racking, measuring, sanitizing, and bottling: all things you will soon be intimately familiar with. Intimately. We've curated the ultimate collection of tubes and jib-jabs to transform simple ingredients into a beer that will make friends and colleagues enjoy, respect, and deeply envy your brewing expertise.
Carry on the legacy of first-rate fermentation and inject some hoppiness into your happiness with the Home Brewed project kit.
Customer Reviews
Awesome gift!

We gifted this to someone and they absolutely loved it!!
It's hard to look for unique and cool gifts that someone will actually enjoy and this company definitely will have us coming back, delivered right on time and super cool gift.

The gift that keeps on giving!!!

Ok, first of all, I have to say that this was THE BEST gift I gave this Christmas, hands down! Lets start with the duct tape. Then go to the crate. And finally, the actual gift - this was such a fun gift! I got this for my son for Christmas, and (once he got it opened) he was SO EXCITED! He couldn't WAIT to get it home so that he could start the brewing! He already has his first batch fermenting, and I know that when it's done he's going to want to do more!

The really fun thing about these is that the crate or the bottle or the ammo can, or whatever the actual "gift" comes in is so awesome that everyone thought THAT was their gift! And the little crow bars to open the crates...some of them (sadly, not all) were bottle openers. Those were the BEST! Everyone wanted the ones that open bottles (Hailey, can I send the non-opener ones back to you for trades?).

Which leads me to...HAILEY! I need to give a HUGE shout out to Hailey in Customer Service (chat) for being so helpful with my MANY Man Crate purchases this season - she was truly a saint! I purchased several items from mancrate.com, and she was so helpful with making sure that everything was made right if there was a little hiccup. Thank you so much Hailey! I have to say it again to your bosses just in case they didn't see me say it before - you deserve a HUGE raise!!!

Best gift ever

Gifted for Xmas for my husband. He loves IPA beer and he's so excited to get started. Comes with everything you need except bottles which you can recycle yourself, understandably since they are glass bottles. He even said it's the best gift he got this Xmas. I also have my eye on few other items I'd like to get for all the men in my family. Can't wait to try this out!

He loves it!

I purchased the micro brew kit for my husband and he absolutely loves it. The kit has everything you need to create your own unique batch of beer.
We had one minor issue with the mini syphon being cracked when it arrived. I immediately contacted customer service and they shipped out a new one the next day. We received it quickly and we could not be more pleased with the customer service we received! Thank you for offering such amazing gift ideas and for being a top notch company who truly cares about your customers satisfaction! We've already recommended your company to our friends and plan to make more purchases during the holidays.
Thanks again for everything!

Best Present I've EVER Given

Got this for my boyfriend for his birthday. The hype so far is unreal. He won't stop talking about it. High quality materials came out of the box upon receiving. I was very nervous when purchasing but upon checkout I was presented with the "diabolical duct tape cocoon" and was like take all my money! Great gift! I will definitely be purchasing every gift for my main men (dad, boyfriend, sisters boyfriend) from here on out! Love this!