In the Box
Field Trip Beef Jerky, Original (2.15 oz)
Country Archer Beef Jerky, Teriyaki (3 oz)
Country Archer Beef Jerky, Crushed Red Pepper (3 oz)
Carnivore Candy Beef Jerky, Sweet Picante (3 oz)
Chef's Cut Real Steak Jerky, Cracked Chipotle Pepper (2.5 oz)
Bakke Brother's Honey Jalapeno (3.2 oz)
Righteous Felon Baby Blues BBQ Beef Jerky (2 oz)
Righteous Felon Habanero Escobar Beef Jerky (2 oz)
How It Ships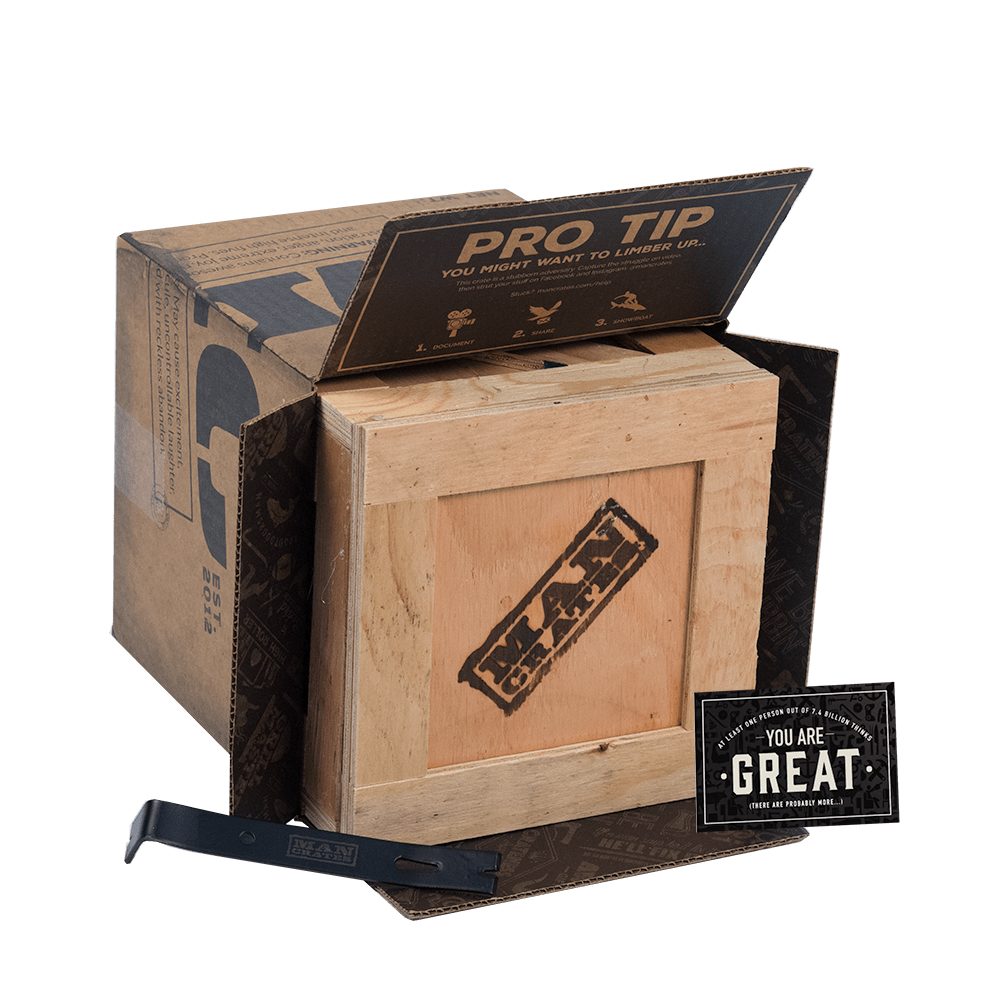 In a sealed wooden crate with a laser-etched crowbar.
---
Order today and it ships the next business day

Choose your delivery date at checkout
100% Satisfaction Guarantee
We think our products are awesome, and we guarantee you will too. If you're unhappy with your purchase or experience for any reason, we'll make it right and give you the kind of service you'll want to high-five us for.
Seriously, just call or text us at (866) 902-7260 or shoot us an email at guys@mancrates.com.
Story
Have A Meat Emergency?
You just spent Thanksgiving at your vegan in-laws' house. You did things you told yourself you never would, things you'll probably never forget. Maybe for a moment, you were almost fooled by the yeast gravy and tofu turkey. But you survived.
Come back to us. Dial in the Slaughterhouse Crate for an immediate and full recovery of your carnivorous manhood.
Over 1 Pound Of Beef
We'll ship you the best six bags of jerky we could find in all the land, delicious meats spanning a range of flavor profiles. Most experienced tasters will develop a preference for either a sweet or spicy base- this crate is crafted with a broad sampling sure to please all palates and start you on your journey towards jerky expertise.
Of course the cuts of meat matter as much as the marinades and spices. If you've been gnawing on the run of the mill, off the shelf beef leather they hawk at convenience stores then these packs will teach you what your jerky should deliver: tender cuts of lean beef aged perfectly.
Your Teeth Were Made For Meat
There's a reason our mouths come equipped with canines, incisors, and molars. There's a reason mankind has always hunted. Meat is freaking delicious.
Ask about Man Crates Former Vegetarian Support Network
Customer Reviews
Best Gift for someone Special

Omg I love Man Crates. First time here and I be sure to order more. My order was shipped right away and the customer service were super nice and helpful. Honestly the box is so beautiful. Packaging was great and specially getting him excited to open the box it's even more fun. Unique gift for that special guy. Bravo

Meats meat and a mans gotta eat

Got this as a housewarming gift from my friend/realtor. Hadn't been in the house 2 days and it looked like a grenade went off in every room. Went out to walk my pet hooker (Alaskan Malamute) and nearly tripped over the box. Took a bit to get it open and laughed the entire time. What an awesome gift! Loved every second of it and still grubbin' on the delicious moo contained therein.

Great Gift!!

Ordered this for my daughter's father as a gift and he loved it.
He had a lot of fun opening the crate then swiftly ate an entire bag of jerky. LOL

So much goodness!

Found Man Crates by accident and it is the best accident I ever had! My husband is a USMC VietNam era Marine who does not get excited about holidays, until this Christmas. He was like a kid in a candy store. I got this crate and the Ammo box/can of Jerky. He was ecstatic. Just ordered a whiskey crate, along with Duct tape for my 40 year old son and I can't wait to get his phone call. The Duct Tape is payback for all the gifts I unwrapped that were wrapped with an entire roll of scotch tape. (A mom's gotta do what a mom's gonna do!)

Best Gift Ever!

I was able to ship this over seas to my brother-in-law who is a Chief in the Navy serving on the USS Harry Truman. We are shocked that this man crate arrived ON his birthday! It made his day!!! Here is what he had to say about this crate. "So today (My birthday) we got a mail run on the ship and guess what was in there?? A man crate! Very awesome and very cool it came on my actual birthday. I pried it open with the crow-bar they give you and its full of yummy goodness. Thanks so much and perfect snack for here on the ship!" So, thank you Man Crates! Especially for helping me when checking out to make sure I had his military shipping address correct!